V.A. - The Melotone Label
 B.A.C.M.  CD D 563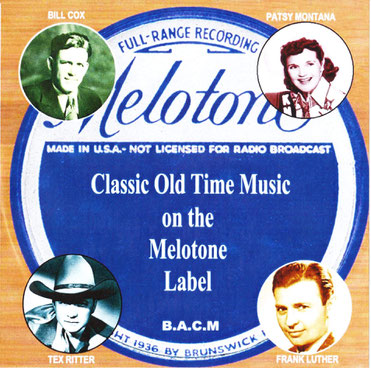 Elton Britt, Patsy Montana & the Prairie Ramblers, Louise Massey & the Westerners, Tex Ritter, The Frank Luther Trio, Bill Carlisle, etc.
            The Melotone record label was small, and only in existence between 1930 – 38. It had a complicated history and it included recordings by performers you may have known from larger labels. Fortunately, historian Kevin Coffey, who wrote the liner notes for this CD, clarifies what would have otherwise been  a very confusing story. Many of the 25 recordings on this CD are by obscure artists, but there are some gems by better-known performers as well.
          For example, country legend Bill Carlisle does a couple of surprisingly catchy tunes from 1935. Western fans will be happy to find 3 gems by Patsy Montana and the Prairie Ramblers, including "The Gold Coast Express" and "Wild and Reckless Cowboy," Elton Britt's very rare 1936 recording of "Twilight on the Trail," Louise Massey & the Westerners' "Riding Down that Old Texas Trail," Tex Ritter's "Every Day in the Saddle" (1933), "The Oregon Trail" by Eddie and Jimmie Dean (1935) and a song or two by the Frank Luther Trio and by Al Dexter and his Troopers ("New Jelly Roll Blues") as well. Less widely-known artists include The Callaghan Bros., Buck Turner, Bill Cox, Cliff Hobbs, and Cody Fox & the Yellow Jackets. Contact VenerableMusic.com, phone (678) 232- 0268.