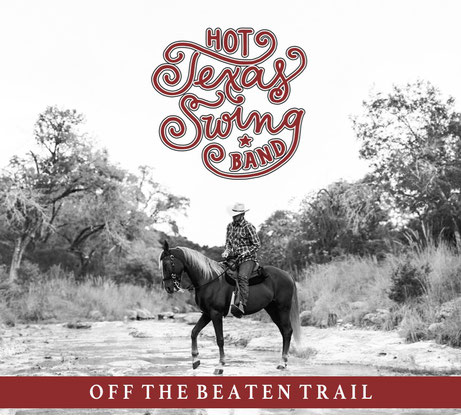 This is a new CD, the fourth by this wonderful Texas band that combines Western Swing, Texas dance hall and big band instrumentation with some top class vocals on 13 beautiful cuts. As with their previous CDs the band's sound is reminiscent of Bob Wills' big World War II vintage band.
Alex Dormont produced this future hit album, does vocals and is the band's bassist. The steel guitarist is Dave Biller and Stephen Bidwell plays drums. The fiddle player is Ileana Nina and the trumpet and accordion heard are those of Jimmy Shortell. Cat Clemons plays guitar, Joey Colarusso plays sax, Dan Walton- piano and in addition to Alex, Selena Rosanbalm and Liz Morphis are heard on vocals and harmony vocals.
The album opens with an Alex original, the album title tune, on which he does vocal. Alex also wrote and does vocal on Headed Back to the Barn, Snow in Amarillo and My Blue Guitar. Another of Alex's Compositions is How Do I Not with Liz on vocal. He also wrote This Time sung by Selena. She also sings the old pop standard Cry Me a River, the old Julie London memory and I Hear You Talkin' from the wonderful prolific pen of Cindy Walker. Alex is also in the vocal spotlight on Stuart Hamblen's classic composition and hit, Texas Plains and from both the George Jones and the Big Bopper (J.P. Richardson), JP's composition, White Lightnin'. Also included are Johnny Gimble's instrumental Bull Whip and two more with Liz on vocal, from the Ella Mae Morse hit parade Cow Cow Boogie and Liz's own Baton Rouge Waltz.
The album can be obtained from Alex Dormont, 501 Spring Creek Rd, Dripping Springs, TX 78620. The cost for mail orders is $19. To order online, go to www.HotTexasSwingBand.com or to iTunes or www.amazon.com.
Mike Gross, KSEY-FM, Seymour, TX & KTNK-AM, Lompac, CA
October 28, 2017
Off The Beaten Trail
I Hear You Talkin'
How Do I Not
Headed Back To The Barn
This Time
Texas Plains
Cow Cow Boogie
Snow In Amarillo
Cry Me A River
Bull Whip
Baton Rouge Waltz
White Lightnin'
My Blue Guitar