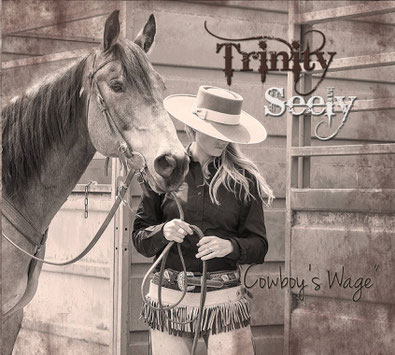 Here's yet another thoroughly polished release from one of the stronger voices in Western Music, and we mean in singing and songwriting!
One of Trinity Seely's specialties is making the workaday seem mythic.  She draws on the deeply personal and the biographic, both done to thoughtful and pleasing effect.  This time around she has set to music Waddie Mitchell's popular poem "The Hand," and it's an album pick along with the title track "Cowboy's Wage," "Strawberry Roan" (her own, not Curly Fletcher's), the old home tribute song "Chilanko," the spritely novelties "Little Things" and "Low Maintenance Girl," "The Middle Of It All" and "Ranch Beauty Queen."
I would be interested to see her begin to branch out in musical structure…more styles.  Some of the songs seem as if they could be laid end to end and, save for a change in subject, could be accepted as parts of one multi-part work.  Twelve tracks.
CD:  (order through www.trinityseely.com)
- by Rick Huff
Cowboy's Wage
Strawberry Roan
Chilanko
Contrails and Cowtrails
Little Things
We were the Vaqueros
In The Middle
Ranch Beauty Queen
Smile
Time Machine
Low Maintenance Girl
The Hand