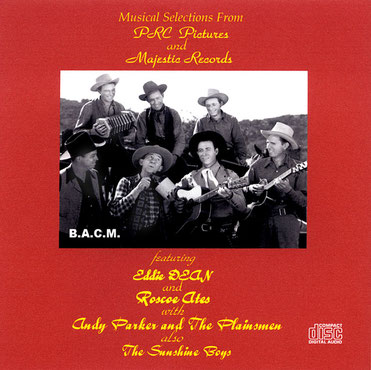 Several Eddie Dean CDs have been available for a number of years, but this is the first time a collection of Eddie's work with Andy Parker & the Plainsmen has been issued. In fact, many of us thought the commercial tracks The Plainsmen recorded with Dean for the Majestic label in 1947 had simply disappeared! So this CD fills a big gap in the Eddie Dean and Plainsmen libraries. Western film fans remember that Eddie Dean worked with Andy Parker & the Plainsmen in many of Dean's films for PRC Pictures.
  The idea for the project came from Andy Parker's son Joe, who managed to locate and restore soundtrack music from the 7 Dean films the Plainsmen sang in, plus one in which the Plainsmen were on screen but some of the music was actually performed by The Sunshine Boys. The film music presented here is wonderful, but there wasn't enough of it available to fill a CD (BACM's practice is to put over an hour of music on each of their releases). When noted music historian Kevin Coffey found the 8 "lost" commercial Eddie Dean and The Plainsmen recordings from 1947, Joe Parker's idea became a dream project!
    Among the selections are my favorite versions of "Roseanne of San Jose," "On the Banks of the Sunny San Juan" and "Black Hills." Joaquin Murphey's steel guitar work on "I'm a Kansas Man" is terrific,  and  there are numerous other gems as well. Tracks have been beautifully restored and the album is a real gem overall, one that should be in every Western music library.  Contact VenerableMusic.com or phone (678) 232- 0268.
- Black Hills
- Punchinello
- Roseanne Of San Jose
- I'm Gonna Hang My Heart On The Hitchin' Post
- Corn Bread Country
- A Miserable Ornery Coyote
- God's Little Lanterns
- Moseyin' Along
- Little Ranch Upon The Hill
- Song Of The Range
- Cathy
- It's Courtin' Time
- When Shorty Plays Schottische
- Driftin' River
- Way In Oklahoma
- Ain't No Gal Gotta Brand On Me
- The Midnight Train
- Roseanne Of San Jose
- Toodle-oo My Darlin'
- On The Banks Of The Sunny San Juan
- It's A Boy
- Let's Go Sparkin'
- I'm A Kansas Man
- Spring Has Come To Old Missouri.