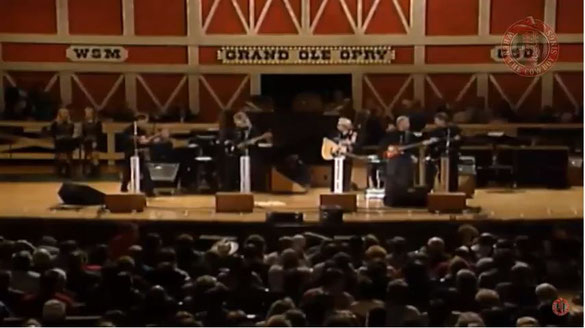 George Jones on Gran Ole Opry,George sings The Corvette Song And Tennessee Whiskey.
"The Corvette Song" is a country song written by Gary Gentry and recorded by George Jones. It was recorded for his 1985 album Who's Gonna Fill Their Shoes The song peaked at number three on the Hot Country Singles chart in early 1986.
"Tennessee Whiskey" is the title of a country song written by Dean Dillon and Linda Hargrove. It was originally recorded by  David Allan Coe for his album of the same name Tennessee Whiskey. George Jones' 1983 version of the song was included on his album Shine On, and reached number 2 on the Hot Country Singles chart. 
The Corvette Song
I stopped off at the Quicksack for some beer and cigarettes
The old man took my money as he stared at my Corvette
He said, I had one just like her son, in 1963
Till the man down at the bank took her from me
Son she was hotter than a two dollar pistol
She was the fastest thing around
Long and lean, every young man's dream
And she turned every head in town
She was built and fun to handle son, I'm glad you dropped in
She reminds me of the one I loved back then
So I handed him the keys and said, "Here take her for a spin"
The old man shook his head and then he looked at me again and grinned
He said, "Georgia don't think you understand it ain't your little car I want
It's the brunette in [Incomprehensible] that's turnin' me on
Lord she was hotter than a two dollar pistol
She was the fastest thing around
Long and lean, every young man's dream
And she turned every head in town
She was built and fun to handle son, I'm glad you dropped in
She reminds me of the one I loved back then
[Incomprehneisble] she was hotter than a two dollar pistol
She was the fastest thing around
Long and lean, every young man's dream
And she turned every head in town
She was built and fun to handle son, I'm glad you dropped in
She reminds me of the one I loved back then
She reminds me of the one I loved back then
Tennessee Whiskey
I used to spend my nights out in a bar room
Liquor was the only love I've known
But you rescued me from reaching 
For the bottle
And you brought me back from
Being too far gone
You're as smooth as Tennessee whiskey
You're as sweet as strawberry wine
You're as warm as a glass of brandy
And I stay stoned on your love all the time
I looked for love in all the same old places
Found the bottom of the bottle always dry
But when you poured out your heart
I didn't waste it
'Cause there nothing like your love 
To get me high
You're as smooth as Tennessee whiskey
You're as sweet as strawberry wine
You're as warm as a glass of brandy
And I stay stoned on your love all the time
I stay stoned on your love all the time