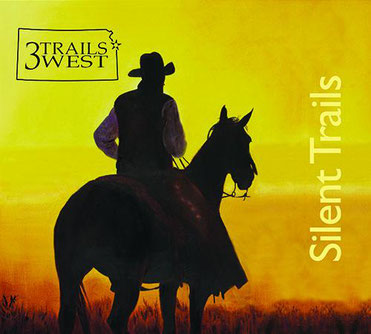 Dos Años hemos esperado para poder disfrutar del nuevo CD de esta maravillosa banda kansas.Fusionan como nadie la Western Music y el Western Swing,en lo que podriamos llamar Cowboy Swing,genero de musica que tiene su propio premio en la WMA"Western Music Association".Este es su tercer trabajo de estudio,pero tienen un directo tambien.El CD contiene 14 cortes que recorren los tres generos musicales anteriormente citados.
El CD esta compuesto por una agradable seleccion de versiones de clasicos y algun contemporaneo.Andy Parker,Tim Spencer,Johnny Bond,Foy Willing son alguno de ellos,y se desmarcan del Western y el Western Swing, con Detroit City un clasico del country de Mel Tillis.
Imposible decantarse por alguna cancion son todas de enorme calidad,con grandes musicos y fantasticas harmonias.Si tuviera que decidirme por alguna quizas lo haria por Song Of The Prairie,Oh Those Texas Blues o Cimarron.
La banda la componen los hermanos Eilts (Roger y Leo) y Jim Winters, Roger toca el bajo y su hermano la guitarra,Jim Winters guitarra tambien,y todos ellos harmonias.En el cd les acompañan Bill Dye a la Steel Guitar y guitarra electrica,,Lori Beth Brooke el acordeon y Marvin Gruenbaum el violin.
Puedes hacerte con el CD fisico o descargartelo e mp3 en su web
Along The Rio Grande
Good Mornin' You All
I Get The Blues When It Rains
Fast Freight
Song Of The Prairie
Silent Trails
Oh Those Texas Blues
That's What I Like About The West
Cross The Brazos At Waco
Swing Me Back To Texas
Trail Dust
Cimarron
The Lord's Prayer
Detroit City