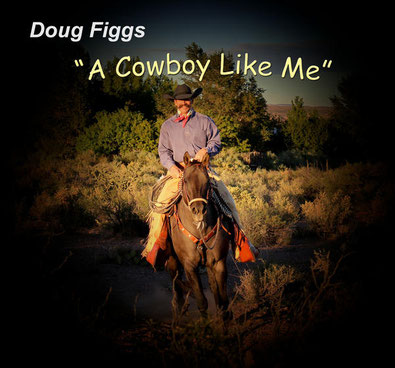 The 2015 WMA Songwriter of the Year Doug Figgs returns with a saddlebag full of fine new writes and co-writes.
In this release Figgs comes up with more performance bravado than he has displayed on past recordings, which is a definite positive.  He is backed by buddies Jim Jones (harmony & mandolin) and co-producer/engineer Mariam Funke (harmony, electric & acoustic guitars, bass, dobro, accordion, drums, percussion and on into the sunset)!
All songs here are worthy, but I'll pick the bilingual numbers "Old New Mexico Moon," "Wild Horses" and "Viento del Sur," the strong and joyful title track "A Cowboy Like Me," "Those Old Days," " the sardonic "Bein' A Cowboy" (written with Todd Carter) and "Play It For Me" (written with Mariam).  One cover song that was a hit for the Marshall Tucker Band is here (Toy Caldwell's "Can't You See").
Recommended.  Thirteen tracks (labeled as fourteen, as inspired by a hotel elevator that omitted the so-called "unlucky" number).
CD:  (order through www.DougFiggs.com, cdbaby, iTunes as CD or download)
- by Rick Huff
Old New Mexico Moon
Sittin' Here with You
Wild Horses
Viento Del Sur
A Cowboy Like Me
It Don't Matter Now
Those Old Days
Bein' a Cowboy
Play It for Me
Do You Believe in Angels
Can't You See
Everything That's Beautiful
Christmas for a Cowboy