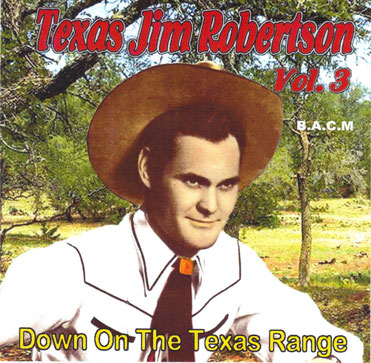 Texas Jim Robertson (February 7, 1909- November 11, 1966).
Texas Jim Robertson was a native of Texas as his name might suggest. I started off singing when he aunt invited him out to Charlotte, NC for a visit when he was about sixteen years old. While there, I've got a job singing the old western songs. It was not too long before his fame spread and he was offered to stint with the NBC network.
While I was in New York, I was not only singing, but also taking on drama roles on the radio. RCA Victor signed him to a recording contract.
In 1937, Marianne Holliday became Jim's wife. Around the beginning of World War II, they became the parents of a little girl, Lucy Holliday Robertson.
The World's Fair in 1939 saw Texas Jim as a popular act with the Ford Exhibit.
Initially, Texas Jim was turned away by the Army to serve because he was rather thin for his height. But undismayed, I was later accepted by the U.S. Marines While with them, I have also entertained the troops while still going through his boot camp regime. His war service included serving in the Pacific Theater and I ended up in Omura, Japan, which was less than 25 miles from Nagasaki, where the second atom bomb landed. While at Omura, he was named Chief Announcer and entertainer for the Kyushu Network. He was honorably discharged in August 1946 and promptly headed home to Nyack, New York.
In addition to the recordings listed, his RCA Victor releases also included such songs as: "I Heard The Angels Weep", "I'm So Low", "Slipping Around", "Wedding Bells", "I Do not Want No More Of Army Life "," If You've Got The Money, I've Got The Tim