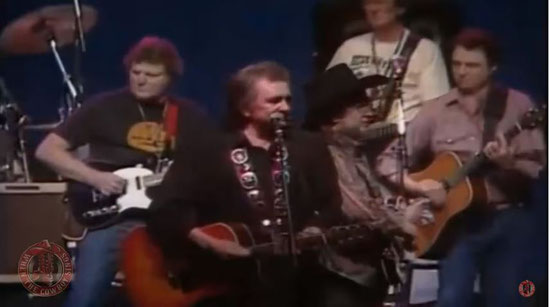 The Highwaymen was a country music supergroup composed of four of the genre's biggest artists well known for their pioneering influence on the outlaw country subgenre: Johnny Cash, Waylon Jennings, Willie Nelson, and Kris Kristofferson. Active as a group between 1985 and 1995, these four artists recorded three major label albums as The Highwaymen: two on Columbia Records and one for Liberty Records. Their Columbia works produced three chart singles, including the number one "Highwayman" in 1985.
Between the years of 1996 and 1999, Nelson, Kristofferson, Cash, and Jennings also provided the voice and dramatization for the Louis L'Amour Collection, a four CD box set of seven Louis L'Amour stories published by the HighBridge Company, although the four were not credited as "The Highwaymen" in this work.
Besides the four formal members of the group, only one other vocal recording artist ever appeared on a Highwaymen recording: Johnny Rodriguez, who provided Spanish vocal on "Deportee", a Woody Guthrie composition, from "Highwayman".
The four original members starred in a movie together: the 1986 film Stagecoach.
The Highwaymen - (Ghost) Riders In the Sky lyrics 
An old cowboy went riding out one dark and windy day
Upon a ridge he rested as he went along his way
When all at once a mighty herd of red eyed cows he saw
A-plowing through the ragged sky and up the cloudy draw
Their brands were still on fire and their hooves were made of steel
Their horns were black and shiny and their hot breath he could feel
A bolt of fear went through him as they thundered through the sky
For he saw the Riders coming hard and he heard their mournful cry
Yippie yi Ohhhhh
Yippie yi yaaaaay
Ghost Riders in the sky
Their faces gaunt, their eyes were blurred, their shirts all soaked with sweat
He's riding hard to catch that herd, but he ain't caught 'em yet
'Cause they've got to ride forever on that range up in the sky
On horses snorting fire
As they ride on hear their cry
As the riders loped on by him he heard one call his name
If you want to save your soul from Hell a-riding on our range
Then cowboy change your ways today or with us you will ride
Trying to catch the Devil's herd, across these endless skies
Yippie yi Ohhhhh
Yippie yi Yaaaaay
Ghost Riders in the sky
Ghost Riders in the sky
Ghost Riders in the sky