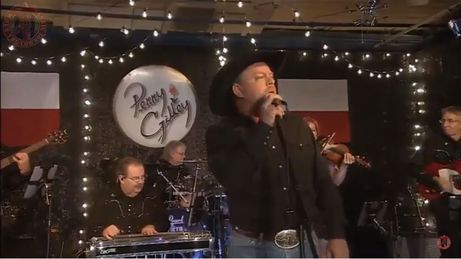 This brand new 2CD set by Jeff Woolsey and the Dancehall Kings, recorded live in Navasota, Texas is filled with 44 tunes (151 minutes) of Texas dance hall, Western Swing and classic country music. Jeff is the lead vocalist with Dixie Hankins the album's drummer. Jody Cameron, the spotlighted steel guitar player was recently enshrined in the Texas Steel Guitar Hall of Fame. Chuck Crow plays piano and along with Dixie does those wonderful harmony vocals. Paul Bennett is heard playing fiddle and Eddie Moore is the bass guitar player. Paul also does lead vocal on Kokomo Arnold's Milk Cow Blues while Chuck and Dixie do harmony vocals. Abigail Carr does harmony vocals on one of the tracks consisting of three tunes.
The album opens with an introduction and then a grouping of two Texas dance hall memories. Throughout the album there are many gems in this style of music recorded originally by Faron Young, Ray Price, Conway Twitty, Johnny Bush, Darrell McCall and Mel Tillis among so many others. These include classics such as Texas Dance Hall Girl, Jim, Jack and Rose, My Joy and What a Way to Live among them. There are also Bob Wills memories such as Take Me Back to Tulsa and also many country memories, among them, Drinkin' Thing from Gary Stewart and from Webb Pierce There Stands the Glass. Jeff and the band really swing on Route 66 and there are so many more wonderful memories that are brought back in this album set.
The cost is $25.00 for the 2-CD set. It can be ordered from www.jeffwoolseymusic.com or can also be ordered from CD Baby, as well as digital download from I-Tunes.
Mike Gross, KSEY-FM, Seymour, TX & KTNK-AM, Lompac, CA
October 11, 2017