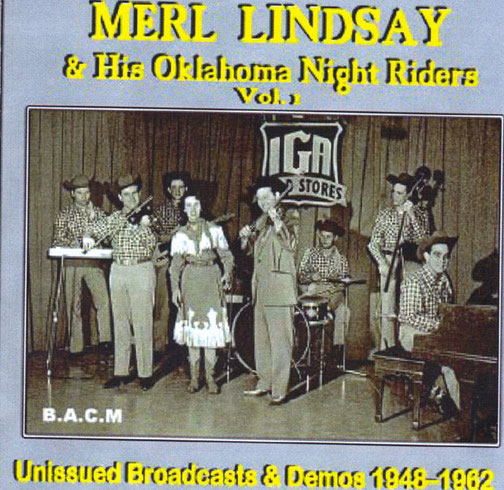 Merl Lindsay was working in California when Bob Wills suggested that he name his Western Swing band, the Oklahoma Night Riders. The name stuck, and they returned to Oklahoma City to record for a couple of labels in the late 40's. There are other CDs around with many of  the band's commercial recordings, but this album contains previously unissued performances from demos and radio broadcasts, recorded 1948-1962.
     Lindsay's "sound" doesn't necessarily copy other greats in Western Swing, although there are some similarities. You can detect the Wills influence, at times, and you'll hear several tunes associated with Wills.  But you'll also find Pee Wee King's "Slow Poke,"  Irving Berlin's "Marie," popularized by Tommy Dorsey,  Woody Herman's "Woodchoppers Ball" and it's a pleasant surprise to hear his vocalist Wanda Jackson, solo on Jimmy C. Newman's "Cry, Cry Darlin'," a departure from the big-band emphasis. But there are still more songs associated with the big band era, like "In the Mood," that are given the Lindsay treatment, much as Bob Wills had done with his big band fairly early in his career.
                     If you listened to this band on the radio way back then, this CD's especially for you. If you didn't, but you're a fan of vintage
              Western swing, you, too, will want a copy for your collection. Contact VenerableMusic.com, phone (678) 232- 0268

.
- Water Baby Blues
- Blues Stay Away From Me
- The Hucklebuck
- Worried Mind
- Tennessee Saturday Night
- Twin Guitar Special
- Ida Red
- Slow Poke
- Silver Lake Blues
- Sleepy Eyed John
- Woodchoppers Ball
- Cry Cry Darlin
- It Had To Be You
- Brown Boy Blues
- Cinammon Sinner
- I'll Go On Alone
- In The Mood
- Marie
- Meanwhile
- Hard Hearted Woman
- Its Better To Leave Well Enough Alone
- Steel Guitar Rag
- Chiggero
- Johnston Rag
- Cotton Pickin Boogie
- Little Brown Jug
- She's The One For Me
- Under The Double Eagle