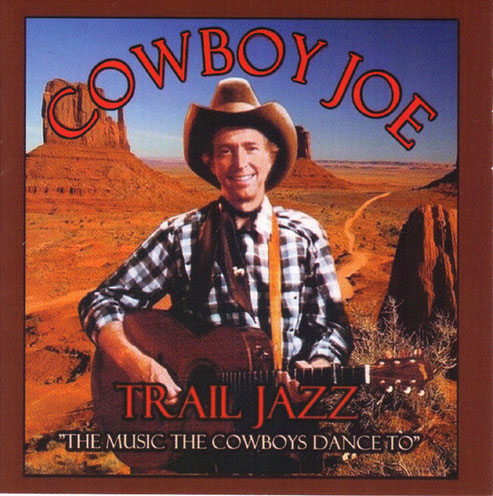 "Trail Jazz (The Music The Cowboys Dance To)"
The creator of the often covered "Doggone Cowboy" (y'know…"throw that rope, brand that calf dream of a girl in a photograph") returns with a dream team of players!
An astonishing twenty-three support musicians (including his key players…A-listers such as Hoot Hester, Jimmy Capps, Hargis "Pig Robbins, Danny Davis and others) turned out for this one.  Such is the status and standing of "Cowboy Joe" Babcock.  This collection an ideal Western Swing dance mix of tempos from folks who know how it's done.  It's Cowboy Joe's Good Medicine Show!!  Ehhhh-EEEEE!!!
Picks from among the mostly original Babcock gems include "No Way To Go But Down," the infectious theme "Cowboy Joe's Good Medicine Show," the introspective "Smoky Clubs and Dizzy People" and "A Little Sentimental," "She Got Religion I Got Too Old To Sin" and "A Stratocaster Song."
Throw this one on, spread the corn meal on the floor and dance 'til your boots wear thin!  Highly recommended.  Fourteen tracks including a reprise of the opening theme.
CD:  Order through www.thebabcocks.com, cdbaby or from Chimney Rock Records, PO Box 681292, Franklin, TN 37064.
- by Rick Huff
Cowboy Joe's Good Medicine Show
Please don't Leave Me Anymore
By My Side
San Antonio Rose
No Way To Go But Down
Smokey Clubs And Dizzy People
I Know That She Loves Me
One More Memory
She Got Religion (I Got Too Old To Sin)
I Think I Fell In Love Again Last Night
Everythings Gotta Swing In Texas
A Little Sentimental
The Stratocaster Song
Reprise