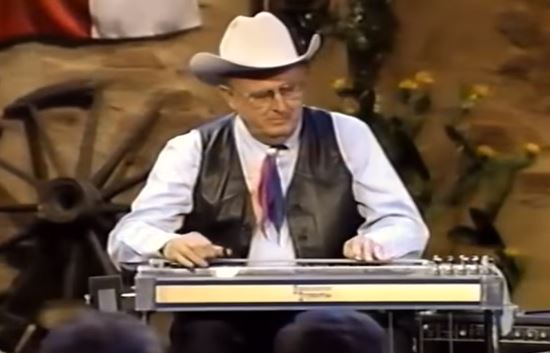 After forming a new band, The Playboys, and relocating to Waco, Wills found enough popularity there to decide on a bigger market. They left Waco in January 1934 for Oklahoma City. Wills soon settled the renamed Texas Playboys in Tulsa, Oklahoma, and began broadcasting noontime shows over the 50,000 watt KVOO radio station. Their 12:30–1:15 p.m. Monday–Friday broadcasts became a veritable institution in the region. Nearly all of the daily (except Sunday) shows originated from the stage of Cain's Ballroom. In addition, they played dances in the evenings, including regular ones at the ballroom on Thursdays and Saturdays.
Wills added a trumpet to the band inadvertently when he hired Everet Stover as an announcer, not knowing that he had played with the New Orleans symphony and had directed the governor's band in Austin. Stover, thinking he had been hired as a trumpeter, began playing with the band with no comment from Wills. Young sax player Zeb McNally was allowed to play with the band, although Wills initially discouraged it. With two horns in the band, Wills realized he would have to add a drummer to balance things and create a fuller sound. He hired the young, "modern style musician" Smoky Dacus.By 1935, Wills had added horn and reed players as well as drums to the Playboys. The addition of steel guitar whiz Leon McAuliffe in March 1935 added not only a formidable instrumentalist but a second engaging vocalist. Wills himself largely sang blues and sentimental ballads. Wills and the Texas Playboys did their first recordings on September 23–25, 1935 in Dallas, Texas, being produced by Don Law and Art Satherley of the American Record Corporation. There is strong evidence that the 1935 sessions took place at 508 Park Avenue along with sessions in 1937 and 1938.
With its jazz sophistication, pop music and blues influence, plus improvised scat and wisecrack commentary by Wills, the band became the first superstars of the genre. Milton Brown's death in 1936 had cleared the way for the Playboys.
Session rosters from 1938 show both "lead guitar" and "electric guitar" in addition to guitar and steel guitar in the Texas Playboys recordings.Wills' 1938 recording of "Ida Red" served as a model for Chuck Berry's decades later version of the same song, "Maybellene".
About this time, Wills purchased and performed with an old Guadagnini violin that had once fetched $7,600 for $1,600, the equivalent of about $24,000 in 2009.
In 1940, "New San Antonio Rose" sold a million records and became the signature song of The Texas Playboys. The song's title referred to the fact that Wills had recorded it as a fiddle instrumental in 1938 as "San Antonio Rose". By then, the Texas Playboys were virtually two bands: one a fiddle-guitar-steel band with rhythm section and the second a first-rate big band able to play the day's swing and pop hits as well as Dixieland.
The "front line" of Wills' orchestra consisted of either fiddles or guitars after 1944
WIKIPEDIA