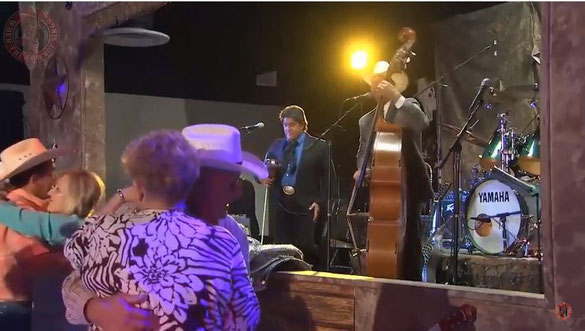 Jake Hooker plays "Pick Me Up On Your Way Down"  on TruCountry Music Show 2017.
"Pick me up on your way down"(written by Harlan Howard and Charlie Walker (# 2, 1958)
Jake Hooker b. 1977, Mertzon, Texas, USA. Hooker's father led a country band, playing the traditional music of East Texas and at the age of seven he had absorbed enough of this musical atmosphere to allow him to join the group, playing bass guitar. Seven years after that he was leading his own band, singing and playing, and before many more years had passed was a full-time professional musician. He studied music theory at South Plains College, Levelland, Texas, and was meanwhile influenced by artists such as Johnny Bush, Darrell McCall, Ray Price, Leon Rausch and Faron Young. From 1998, Hooker was resident in Fort Worth, Texas, where he formed a new band, the Outsiders, which included drummer Jeff 'The Kid' Croy. With this group, Hooker gained a strong local following. In the early 00s the band included Anthony Wilson (fiddle), Dickey Overbey (steel guitar), with Croy still behind the drums.
Pick Me Up On Your Way Down Lyrics
You were mine for just awhile
Now you're putting on the style
And you never once looked back
At your home across the track
You're the gossip of the town
But my heart can still be found
Where you tossed it on the ground
Pick me up on your way down
Pick me up on your way down
When you're blue and all alone
When there glamor starts to boar you
Come on back where you belong
You maybe their pride and joy
But they'll find another toy
And they'll take away your crown
Pick me up on your way down
They have changed your attitude
Made you honey and so rude
Your new friends can take the blame
Underneath your still the same
When you learn these things are true
I'll be waiting here for you
As you tumble to the ground
Pick me up on your way down
Pick me up on your way down
When you're blue and all alone
When there glamor starts to boar you
Come on back where you belong
You maybe their pride and joy
But they'll find another toy
And they'll take away your crown
Pick me up on your way down