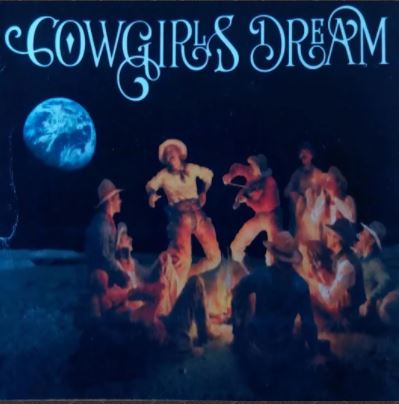 This enjoyable new 12 tune CD by Cowgirls Dream features Kristi Nebel in the vocal spotlight and on bass on both new and classic items. Also in this group are Steve Nebel on vocal and guitar, the vocals, accordion and piano playing of Toby Hanson and Mike Friel on vocals and drums.
The album opens with Terry Fell's classic country composition Truck Drivin' Man and then goes on to the first of two Hank Williams country standards Jambalaya and also You Win Again. There are included Western Swing classic memories from Jack Guthrie, Oklahoma Hills and three from Bob Wills, Deep Water, Tommy Duncan's Time Changes Everything and Take Me Back to Tulsa. Four of the tunes are originals written by Steve, the western oriented Go Out to Alberta, and the country oriented Everybody Gotta Hurt. Also written especially for the group home state is My Home in Washington and the country/polka/waltz co-written with Toby, Beer, Beautiful Beer. The remaining tune is the wonderful Western classic from Gene Autry and Hollywood, Deep in the Heart of Texas.
This CD can be obtained for $15, postage included by mail from Steve and Kristi Nebel at P.O. Box 5764, Tacoma, WA 98415. You can e-mail kristi.steve.nebel@gmail.com for paypal information.
Mike Gross, KSEY-FM, Seymour, TX & KTNK-AM, Lompac, CA
May 24, 2017
Truck Drivin' Man
Jambalaya
Oklahoma Hills
Go Out to Alberta
Deep Water
Beer, Beautiful Beer
Deep in the Heart of Texas
You Win Again
Time Changes Everything
Everybody Gotta Hurt.
Take Me Back to Tulsa
My Home in Washington