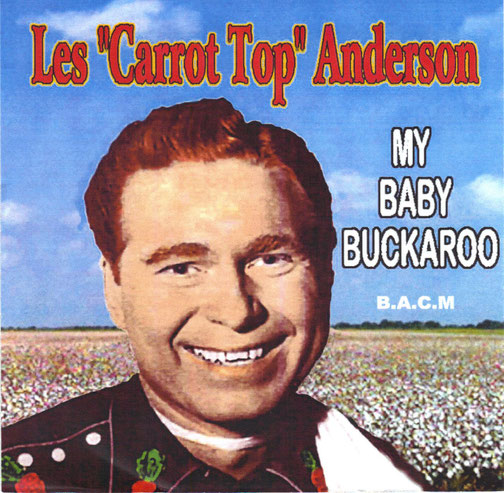 Unfortunately, I never met Les Anderson, but I did know his widow Betty, who used to come to WMA conventions in Albuquerque. When she offered to send me some of her late husband's old cassettes, I had visions of rare treasures, because finding Les Anderson's recordings wasn't easy. When I opened the box that soon arrived in the mail, I was disappointed. There were lots of tapes that had belonged to Les, but they were cassettes he had taped, apparently with an old hand-held recorder, from radio broadcasts and old LPs. They weren't things he had sung or played on, just things by others that he liked!
This new CD released by BACM fills a big gap, not only for me, but for others who remember him from his work as a vocalist and steel guitarist with Bob Wills and many others, his time as a star on the Town Hall Party and his own tv show, as well as his work with his own band, the Melody Wranglers. This disc focuses on the early years of his recording career (1945-51), with numerous Anderson vocals and with other steel guitarists, e.g. Noel Boggs, accompanying him, in addition to some of his fine steel playing.
The songs here are a mix of western swing and country, and the title song, a vocal, has become one of my Les Anderson favorites. A re-recording of his steel composition, "This is Southland" is here, and Kevin Coffey's excellent notes relate the story of Anderson's work with Spade Cooley, among other things. Contact VenerableMusic.com, phone (678) 232-0268.
OJ Sikes
- Song Of The Lonesome Prairie
- Sun Sets Gold
- Sad But True
- And I Shook
- This Is Southland
- Queen Of The Saddle
- Storeroom In My Mind
- My Baby Buckaroo (1)
- He's Just A Hobo
- New Panhandle Rag
- Trouble Then Satisfaction
- Blue Light Boogie
- Just Like Two Drops Of Water
- I Was Sorta Wonderin'
- T-U-Tucky-Ty
- Las Vegas, Nevada
- Dimples Or Dumplings
- My Baby Buckaroo (2)
- Tennessee Moon
- She's Dynamite In Blue Jeans
- I've Got No Worries
- The  Prisoner Of Love
- Texas Playboy Rag
- Stardust
- What A Collision, What A Wreck
- Rosetta
- What's The Matter With The Mill