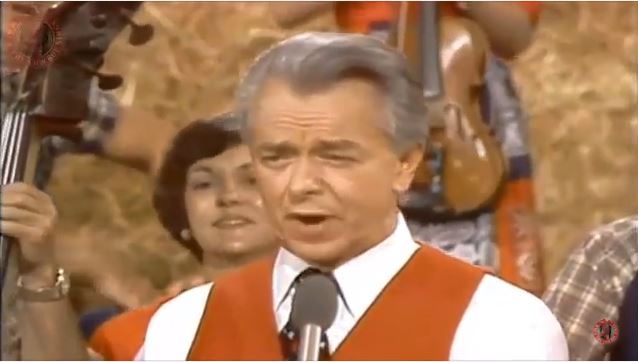 Senator Robert Byrd And The Whole Hee Haw Gang play Will The Circle Be Unbroken  on the Hee Haw show 1979.
"Will the Circle Be Unbroken?" is a popular Christian hymn written in 1907 by Ada R. Habershon with music by Charles H. Gabriel. The song is often recorded unattributed and, because of its age, has lapsed into the public domain. Most of the chorus appears in the later songs "Can the Circle Be Unbroken" and "Daddy Sang Bass".
A reworked version of the song, intended as a funeral hymn, was written by A. P. Carter and released in 1935 by the Carter Family. The Carter version, titled "Can the Circle be Unbroken", uses the same music and the same verse structure but with different verse lyrics and a modified chorus. That version has often been recorded as "Will the Circle be Unbroken", including the 1972 performance by Mother Maybelle Carter and ensemble on the Nitty Gritty Dirt Band album of the same title.
The Carter Family Will The Circle Be Unbroken Lyrics
I was standing by the window
On one cold and cloudy day
And I saw the hearse come rolling
For to carry my mother away
Will the circle be unbroken
By and by Lord, by and by
There's a better home awaiting
In the sky, Lord, in the sky
Lord, I told the undertaker
Undertaker please drive slow
For this lady you are carrying
Lord, I hate to see her go
Will the circle be unbroken
Bye and bye Lord, bye and bye
There's a better home awaiting
In the sky Lord, in the sky
Oh, I followed close behind her
Tried to hold up and be brave
But I could not hide my sorrow
When they laid her in the grave
Will the circle be unbroken
Bye and bye Lord, bye and bye
There's a better home awaiting
In the sky Lord, in the sky
I went back home, the home was lonesome
Since my mother, she was gone
All my brothers and sisters crying
What a home so sad and alone
Will the circle be unbroken
Bye and bye Lord, bye and bye
There's a better home awaiting
In the sky Lord, in the sky
We sang songs of childhood
Hymns of faith that made us strong
Ones that mother Maybelle taught us
Hear the angels sing along
Will the circle be unbroken
Bye and bye Lord, bye and bye
There's a better home awaiting
In the sky Lord, in the sky