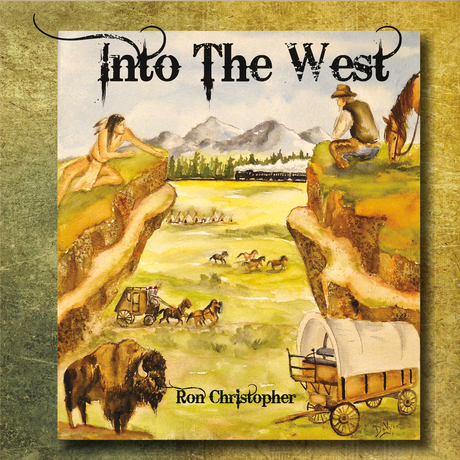 After quite a lengthy absence from our pages comes Ron Christopher, with another masterfully produced contemporary Western album.
Beat driven, Christopher's newest effort features his power ballad style drawn from the Johnny Cash or Marty Robbins playbooks.  With strong and appropriate supplemental instrumentation and effects, it's a classic "Big West" effect that isn't tried often these days.  ' Gotta have the budget for it, I guess.
Album picks include the title track "Into The West," "Paradise Palace Hotel," the saga songs "Maria Martinez," "For The Kill," "First Door At The Top Of The Stairs" and "The Lady and The Outlaw."  Christopher also finds time to pay tribute to his entre into the genre in "Thank You Roy."  As the CD neared completion his crew learned of the death of their friend Sarah Sweetwater, and an endearing song to her closes the album.  Recommended.  Twelve tracks.
CD:  (order through www.ronchristophermusic.net or contact through (rc33losangeles@aol.com)
- by Rick Huff
Into The West
Paradise Palace Hotel
The First Americans
Maria Martinez
Gunfighter
Thank You Roy
For The Kill
Nevada's Nomads
8 Degrees In Reno
First Door At The Top Of The Stairs
The Lady And The Outlaw
Sweet Sarah