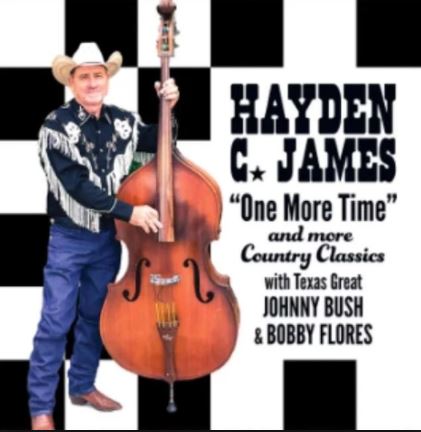 For his second album this very talented vocalist chose 12 classics from Texas dance hall, Western Swing and country music. It is a wonderful new project produced by Western Swing super star and music genius, Bobby Flores. Bobby also joins Hayden playing fiddle on all tunes and for vocal assistance on Fred Rose's Deep Water from Bob Wills and Tommy Duncan. Bobby and Justin Trevino also help out on harmony vocals.
In addition to Hayden and his bass and Bobby's fiddle, guitar and strings the album musicians are Randy Reinhard- piano and steel guitar and Jim Loessberg- drums. The legendary Johnny Bush joins Hayden with harmony vocal on Green Snakes, one of Johnny's great hits.
Hayden also borrows Texas dance hall classics from the great Ray Price. Now brought back from Ray are Mel Tillis' One More Time, Wayne Walker's Pride and the multi-field standard Release Me. From country music and Little Jimmy Dickens is reprised That's What I Do Best and from Bill Mack is the classic Drinking Champagne. Other Texas dance hall standards now brought back are Bill Anderson's Face to the Wall, Let's Chase Each Other Around the Room from Merle Haggard and Eddie Miller's Playboy. The album's remaining items are Jan Crutchfield's Statue of a Fool from Jack Greene and the Hank Cochran masterpiece from Eddy Arnold, Timi Yuro and so many others, Make the World Go Away.
This CD gem can be obtained on line at http://www.haydencjames.com/music The cost is $19.98
Mike Gross, KSEY-FM, Seymour, TX & KTNK-Am, Lompac, CA
June 24, 2017
One More Time
Release Me
Green Snakes(On The Ceiling)
That's What I Do Best
Drinking Champagne
Face To The Wall
Deep Water
Statue Of A Fool
Let's Chase Each Other Around The Room
Make The World Go Away
Pride
Playboy