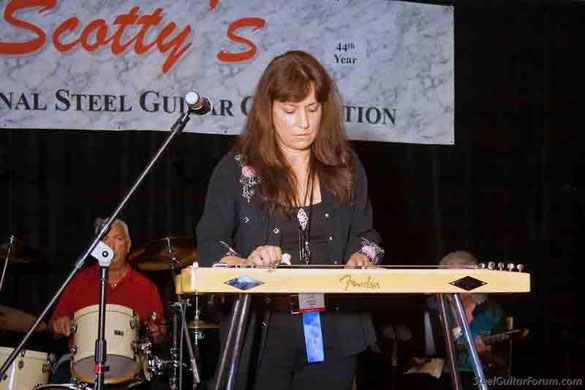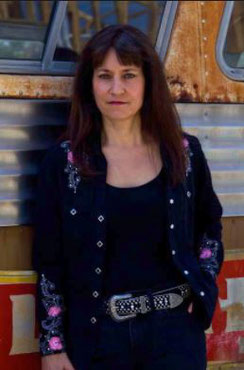 Rose Sinclair played various instruments in bands for years, entertaining at festivals, honky tonks, and theaters in the United States, Canada, and Europe, from NYC's Town Hall to the Carter Family Fold. In 2000, she took up the non-pedal steel guitar, eventually moving to Austin, TX in 2012 to focus on western swing and get to know and learn from some legendary steel players including Maurice Anderson, Denny Mathis, Pee Wee Whitewing, and Herb Steiner.
In 2014 Rose got the call and started touring with Wayne Hancock, and appears on his 2016 album release, "Slingin' Rhythm" [Bloodshot Records]. When she's off tour at home in Austin, she fronts the Rose Sinclair Steel Quartet, helps out with the Austin Steel Guitar Co-op, and generally enjoys the music scenes in Texas and Louisiana.
Rose has played the main stage at the International Steel Guitar Association in St. Louis, the Texas Steel Guitar Association Jamboree in Dallas, as well as the Southern Illinois, Denver, Nashville, Phoenix, Tulsa, and Branson steel guitar shows. She's been a featured artist at the Austin and San Antonio steel guitar clubs, and opened for Asleep at the Wheel.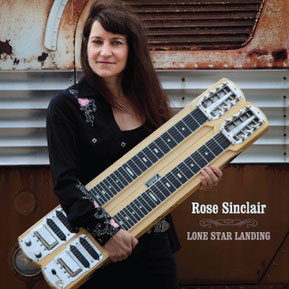 "Lone Star Landing," a 6-song CD of jazz standards–Texas style, was released in April 2013, nominated for best album by the Academy of Western Artists, and is receiving airplay in the U.S. and Europe. Mike Gross featured Rose in a "Steel Guitar Musician Spotlight" on the 8/11/13 edition of "Swingin' West," his award-winning internet radio show (www.swinginwest.com). She was also featured on Bob Wills Radio, and Highwaywoman Radio. Rose's steel guitar is joined by Rob Harding on electric guitar, David Carroll on upright bass, and Ron Erwin on drums. The CD was recorded by Jake Langley, at the Chicken Shack Studio, Austin, TX, and is available at CD Baby and iTunes.
Also in 2013, Rose recorded with Joel Savoy's Honky Tonk Merry-Go-Round (Valcour Records), and had the honor of playing three Louisiana Crossroads shows, backing up Grand Ole Opry star Jimmie C. Newman.
Awards
2018 Nominee for MUSICIAN – Ameripolitan Music Awards
2017 Nominee for MUSICIAN – Ameripolitan Music Awards
2016 Runner Up Player of the Year – Texas Steel Guitar Association
2016 Nominee for MUSICIAN – Ameripolitan Music Awards
2015 Nominee for INSTRUMENTALIST – Academy of Western Artists
2014 Nominee for INSTRUMENTALIST – Academy of Western Artists
2013 Nominee for ALBUM ("Lone Star Landing") and INSTRUMENTALIST of the year – Academy of Western Artists