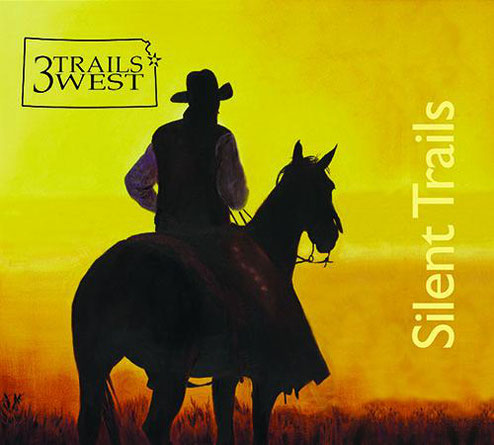 This is a brand new CD by 3 Trails West, the wonderful western group that bridges the gap between Western Music and Western Swing Music. There are 14 fantastic cuts borrowed from various artists and styles of music that now fit perfectly to the style of this group.
The group nucleus is brothers Roger and Leo Eilts and Jim Winters. Leo plays bass and Roger plays guitar. Bill Dye plays some very enjoyable steel guitar and electric guitar, Lori Beth Brooke- accordion and Marvin Gruenbaum plays some super fiddle.
The album opens with a western standard from Andy Parker and the Plainsmen, written by Andy, Along the Rio Grande. Others borrowed from Andy and the Plainsmen are folk singer Terry Gilkyson's Fast Freight and Andy's Trail Dust, a Sons of the Pioneers favorite. Also included from the Sons of the Pioneers is Tim Spencer's Silent Trails. A real gem with strong Top 10 possibilities is Don McCalister Jr.'s Swing Me Back to Texas. Other classics include Stuart Hamblen's Good Mornin' You All and from Foy Willing and the Riders of the Purple Sage, Foy's composition, Oh Those Texas Blues, also with charting possibilities. I Get the Blues When it Rains is brought back from classic popular music and Cross the Brazos at Waco is from Kay Arnold's pen and the Billy Walker collection of hits. There is also Cowboy Joe Babcock's Song of the Prairie and the classics, That's What I Like About the West from Tex Williams and the Western Caravan and Johnny Bond's Cimarron. The remaining two tunes are the sacred favorite The Lord's Prayer and from country music Mel Tillis' Detroit City, a rehearsal bonus from the Bobby Bare hit parade.
The Album can be purchased as a download or hard copy at their web site: https://www.3trailswest.com/ Downloads are $10 and CDs are $15, postage paid, and can be ordered directly at: 3 Trails West, c/o Leo Eilts, 506 N. 4th St., Kansas City, KS 66101. They will send autographed copies to anyone who requests it.
Mike Gross, KSEY-FM, Seymour, TX & KTNK-AM, Lompac, CA. 
November 7, 2017
Along The Rio Grande
Good Mornin' You All
I Get The Blues When It Rains
Fast Freight
Song Of The Prairie
Silent Trails
Oh Those Texas Blues
That's What I Like About The West
Cross The Brazos At Waco
Swing Me Back To Texas
Trail Dust
Cimarron
The Lord's Prayer
Detroit City