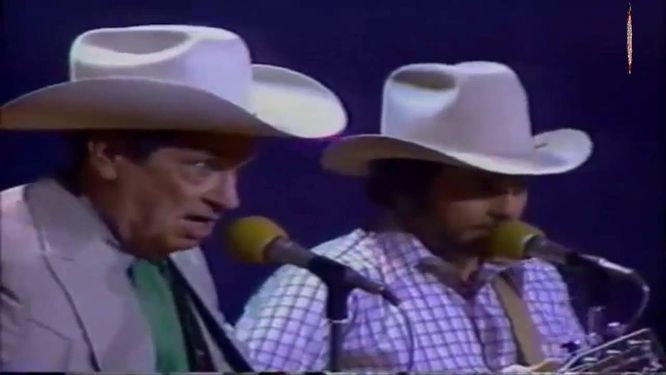 Ernest Tubb & Merle Haggard plays Walking the Floor Over You.
"Walking the Floor Over You" Written by Ernest Tubb and released in the United States in 1941.
The original version included only Tubb's vocals and acoustic guitar accompanied by "Smitty" Smith on electric guitar. Tubb later re-recorded the song with his band, The Texas Troubadours.
The original single became a hit, reaching the No. 23 spotin the Billboard charts in 1941 but eventually the song sold over a million copies. Critic David Vinopal called "Walking the Floor Over You" the first honky tonk song that launched the musical genre itself.
Tubb started his career as a Jimmie Rodgers mimic but lost his yodel in 1939 when a doctor took out his tonsils. He soldiered on and became one of pop's first great terrible singers, with a voice so wooden that even he made fun of it. But like basically every successful youth-oriented musician of the last century, he had the keen idea to quicken the pace and firm up the beat, making the song as much about the accompaniment as the lead. "Walking" was an early instance of country music's fascination with the electric guitar, a rude instrument used in places of questionable morality. If anything, Tubb's voice only helped foster the idea that he was authentic – a regular dude who made good on his shortcomings and sold millions. By Mike Powell
Ernest Tubb Walking the Floor Over You Lyrics
I'm walking the floor over you
I can't sleep a wink that is true
I'm hoping and I'm praying
As my heart breaks right in two
Walking the floor over you
You left me and you went away
You said that you'd be back in just a day
You've broken your promise
And you've left me here alone
I don't know why you did dear
But I do know that you're gone
I'm walking the floor over you
I can't sleep a wink that is true
I'm hoping and I'm praying
As my heart breaks right in two
Walking the floor over you
Now darling, you know I love you well
Love you more than I can ever tell
I thought that you wanted me
And always would be mine
But you went and left me here
With troubles on my mind
I'm walking the floor over you
I can't sleep a wink that is true
I'm hoping and I'm praying
As my heart breaks right in two
Walking the floor over you
Now someday you may be lonesome to
Walking the floor is good for you
Just keep right on walking
And it won't hurt you to cry
Remember that I love you
And I will the day I die
I'm walking the floor over you
I can't sleep a wink that is true
I'm hoping and I'm praying
As my heart breaks right in two
Walking the floor over you