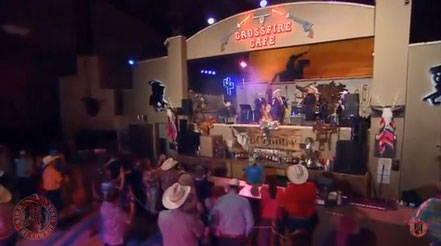 Billy Mata and the Texas Tradition plays Corrine Corrina on TruCountry Show.
"Corrine, Corrina" (sometimes "Corrina, Corrina") is a 12-bar country blues song in the AAB form. "Corrine, Corrina" was first recorded by Bo Carter (Brunswick 7080, December 1928).However, it was not copyrighted until 1932 by Armenter "Bo Carter" Chatmon and his publishers, Mitchell Parish and J. Mayo Williams. 
In 1934, Milton Brown and his Musical Brownies recorded the song under the title "Where Have You Been So Long, Corrinne," as a Western swing dance song. Shortly thereafter, Bob Wills adapted it again as "Corrine, Corrina," also in the Western swing style. Following his recording with the Texas Playboys (OKeh 06530) on April 15, 1940, the song entered the standard repertoire of all Western swing bands.
"Corrine, Corrina" is also an important song related to Western swing's pioneering use of electrically amplified stringed instruments. It was one of the songs recorded during a session in Dallas on September 28, 1935, by Roy Newman and His Boys (OKeh 03117). Their guitarist, Jim Boyd, played what is the first use of an electrically amplified guitar found on a recording.
Cliff Bruner's Texas Wanderers also recorded an early version of Chatmon's song on February 5, 1937