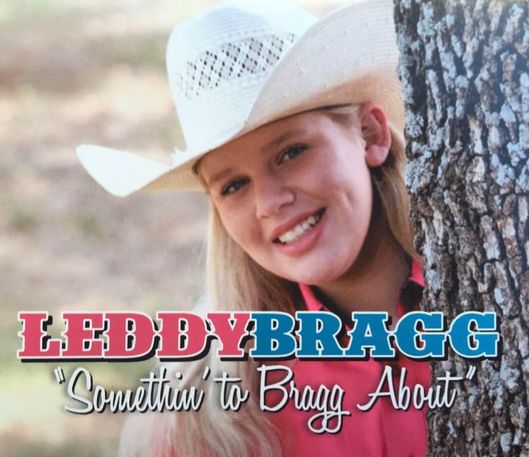 Leddy Bragg plays Texas Is Calling Me Home on The Penny Gilley Show 2017.
Review CD Mike Gross
This brand new CD of 13 tunes by this young and very talented vocalist, Leddy Bragg, is a follow-up to her very successful initial CD. It is produced by Justin Trevino, who also plays acoustic guitar, and features a myriad of top Texas musicians. These musicians include steel guitarist Jim Loessberg, who is also the album drummer. The lead guitarist is Charlie Walton and Hank Singer plays fiddle. Jake Hooker plays bass and Randy Reinhard is on the piano. Justin is also a background vocalist along with Deena' Anderegg.
The album is comprised of mostly Texas Dance Hall and country classics. It opens in the country music mood of the late Webb Pierce with his 1950's classic country hit There Stands the Glass. There are also many other memories borrowed from country music. There is Carl Belew's 1965 classic, Crystal Chandeliers, A Boy Like You, Buck Owens' hit and composition, Act Naturally and the album closer with Leddy and her piano in the spotlight on the Floyd Cramer composition and hit, Last Date. The Texas dance hall gems include Bill Anderson and Faron Young's Face to the Wall; A-11 from the Hank Cochran pen and from the great Ray Price; The 24th Hour, Texas is Calling Me Home and Invitation to the Blues. Other Texas dance hall gems that are included are Yes Ma'am, Before the Next Teardrop Falls from Freddy Fender and the Faron Young hit and composition (along with Billy Deaton,) Wine Me Up.
The CD can be ordered by credit card from phone- 940-550-5100 or on line at www.i2irecords.com. You can also e-mail leddy.bragg@yahoo.com
Mike Gross, KSEY-FM, Seymour, TX & KTNK-AM, Lompoc, CA 
March 3, 2017
 

Ray Price Somewhere In Texas

 Lyrics
The city lights gave me that rambling fever
And I went out alone to chase my dreams
In my sleep at night her face still haunts me
And now I find my dreams are chasing me
And tonight somewhere out in Texas
They're dancing to a Bob Wills song
And my heart lies somewhere out in Texas
And Texas is calling me home
I've traveled many miles and many highways 
Always looking for the rainbows end
Now I know it's waiting in my own backyard
And I'm heading home for Texas once again
And tonight somewhere out in Texas
They're dancing to a Bob Wills song
And my heart lies somewhere out in Texas
And Texas is calling me home
And Texas is calling me home