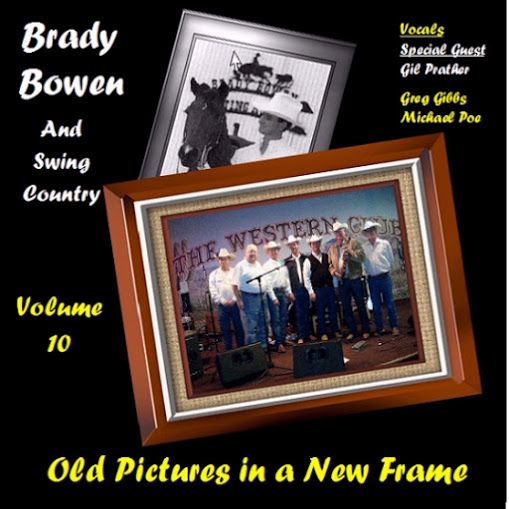 Brady Bowen, a fine fiddle and viola player and band leader, has again brought together some really talented Western Swing musicians to record this wonderful new CD of 14 super songs. The album is a bit of change for Brady and the group being all vocals and many emanating originally from the field of country music. Greg Gibbs whom also plays fiddle on the CD is heard on six vocals. Other vocals are done by Gil Prather and guitarist Mike Poe. Gil also wrote Professional Fool and It's Better This Way.
This album also spotlights the steel guitar of Albert Talley and Terry Thompson is the drummer. The legendary Johnny Case is heard playing piano and Ronnie Dale Schultz plays bass, rhythm and lead guitar and Tic-Tac. Roy Black does harmony vocals.
The album opens in the Texas dance hall mood with You're the Cloud I'm on When I'm High. Also in that style is Ray Griff's Step Aside from the late Faron Young. Borrowed from country music legend Merle Haggard are Blue Jungle, That's the Way Love Goes and The Fugitive. Also included is the Cindy Walker gem from Eddy Arnold, Jerry Vale and so many others, You Don't Know Me. Other classics in this new CD are the Harlan Howard masterpiece, Another Bridge to Burn, Floyd Tillman's Cold War With You and Spade Cooley's Shame on You. Then there are the pop standards It's All in the Game and The Gypsy. The remaining tune, from Stonewall Jackson and country music is Don't Be Angry.
This album can be obtained on line at www.bradybowen.com or www.westtexascountry.com for $15, which includes shipping and postage in the 48 US continental states.
You're The Cloud I'm On When I'm High
Blue Jungle
Another Bridge To Burn
That's The Way Love Goes
Step Aside
You Don't Know Me
Cold War With You
Don't Be Angry
Professional Fool
It's All In The Game
Shame On You
I Guess It's Better This Way
The Fugative
The Gypsy