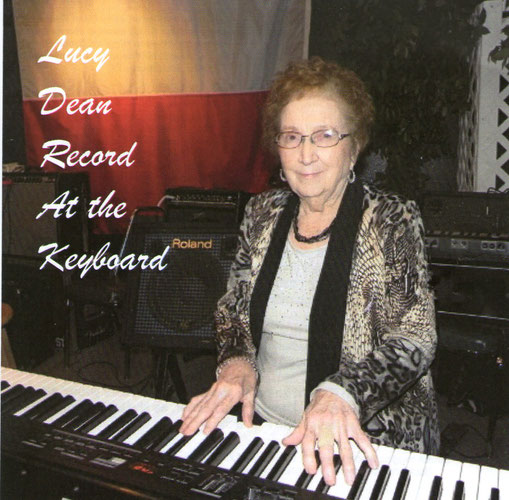 This wonderful 89 year old piano player has just released her first CD. She is backed by vocalist/fiddle player Jimmy Burson and other wonderful Texas musicians on this CD of 13 tunes. The other fiddle player is Brady Bowen, also on harmony vocal. Bobby Baker plays some really enjoyable steel guitar, Bill Mitchell-rhythm guitar, Lee Barlow-bass, Joe Wayne Campsey-drums and Michael Poe is the lead guitarist.
The album opens with the first of nine pop standards and the first of Jimmy's three vocals, Gus Kahn and Isham Jones' It Had to Be You. The other two tunes with Jimmy on vocal are Somebody Else is Taking My Place borrowed from the big band of Benny Goodman (with a young Peggy Lee on vocal) and the religious favorite, Closer Walk with Thee. The album's other sacred classic is I'll Fly Away. Other pop standards are Twilight Time first from The Three Suns and then from The Platters, Somewhere My Love, from Hollywood and Dr. Zhivago and Hoagy Carmichael's Stardust. Also from the popular music world Lucy and the band recreate Honeysuckle Rose, Sweet Georgia Brown, Stumbling, Gershwin's Lady Be Good and the Mills Brothers mega-hit, Up the Lazy River. The remaining gem is borrowed from the country field and Anne Murray, Could I Have This Dance.
This CD can be obtained from Lucy Dean Record, PO Box 417, Lockney, TX 79241. The cost is $15 plus $5 postage and handling for a total of $20.
It Had To Be You
Twilight Time
Somebody Else Is Taking My Place
Somewhere My Love
I'll Fly Away
Stardust
Lady Be Good
Honey Suckle Rose
Sweet Georgia Brown
Could I Have This Dance
Stumbling
Closer Walk With Thee
Up The Lazy River