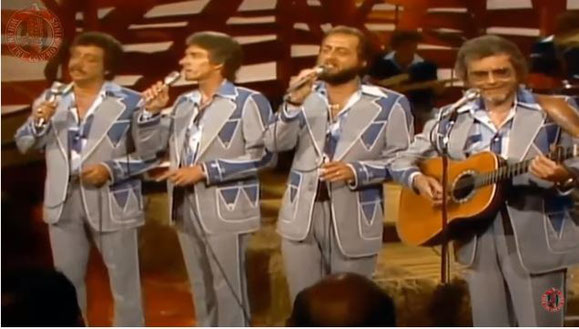 The Statler Brothers plays Mr. Autry on Hee Haw 1979.
 The Statler Brothers' salute to Gene Autry.
It appears in the album The Originals and in the single, of 1979.
Side A / Mr. Autry and Side B / Here We Are Again On Mercury.
The Statler Brothers Mr. Autry lyrics
We read your book
And you gave us
A closer look
At the hero
Who helped us know
Right from wrong
Ahhh, it's been so long
Mr. Autry
We read each page
And even you
Improved with age
You're still the cowboy
That all of us boys
Thought you were
You still ride champion in our mem'ries
A cowboy soldier to the end
Whenever duty called you would answer
And be back in the saddle again
Mr. A.
We loved each line
You gave so much
In your time
From radio
To picture shows
And the songs you write
Ahhh, your hat's still white
Mr. Gene
It's another day
And we've grown up
But let us say
Just like before
And even more
We wanna be like you
You still ride champion in our mem'ries
A cowboy soldier to the end
Whenever duty called you would answer
And be back in the saddle again
Look good this spring
Don't worry none
You're still number one
And we still love you