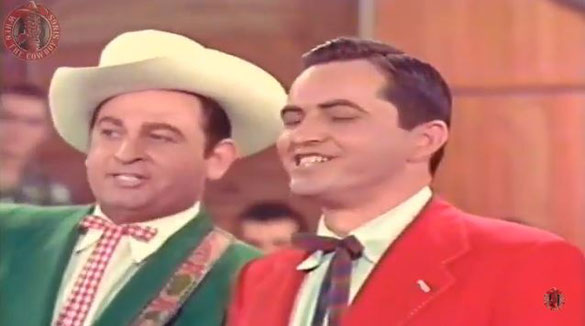 Johnnie And Jack performs "Goodnight,Sweetheart,Goodnight" .Live Stars Of The 50's.
"Goodnite, Sweetheart, Goodnite" is a popular song that was a hit during the mid-1950s. It was written by Calvin Carter and James "Pookie" Hudson in 1953.
It was originally recorded by the R&B doo-wop group The Spaniels in 1954.The original version peaked at number five on the R&B Best Sellers chart.The best-selling version of the song was recorded by the McGuire Sisters in 1954.It was also recorded in 1954 by country music duo Johnnie & Jack.
Johnnie And Jack - Goodnight,Sweetheart,Goodnight lyrics
Goodnight, sweetheart
Well, it's time to go
Goodnight, sweetheart
Well, it's time to go
I hate to leave you, but I really must say
Goodnight, sweetheart, goodnight
Well it's three o'clock in the mornin'
Baby, I just can't do right
Well, I hate to leave you, baby
I don't mean maybe
Because I love you so
Goodnight, sweetheart
Well, it's time to go
Goodnight, sweetheart
Well, it's time to go
I hate to leave you, but I really must say
Goodnight, sweetheart, goodnight
Mother, and, oh, your father
Won't like it if we stay out too late
Well, I hate to leave you, baby
Don't mean maybe
You know I hate to go
Goodnight, sweetheart
Well, it's time to go
Goodnight, sweetheart
Well, it's time to go
I hate to leave you, but I really must say
Goodnight, sweetheart, goodnight