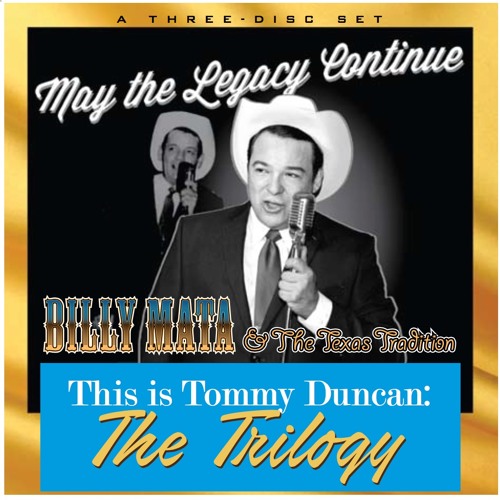 Seis largos años hemos tenido que esperar para que Billy Mata,tambien conocido como "The Ambassador of Western Swing" nos deleite con su nuevo trabajo tributo a Tommy Duncan, y por fin con el Vol 3,acabe la triologia dedicada a el.
Ya en el 2008 cuando lanzo el Vol 1, que se alzo con el premio a mejor album de western swing por la AWA(Academy Of Western Artist" en el 2009, los amantes del western swing esperabamos ansiosos el Vol 2,que no se hizo esperar mucho y se lanzo al mercado en el 2011, con este nuevo CD,por fin el gran Billy Mata cierra la triologia.
De momento el CD solo esta a la venta en conciertos, y en forma de triologia,osea compras los 3,pero pronto estara para su descarga.
Si en el primer volumen y el segundo se centraba en los comienzos de Tommy Duncan con Bob Wills,y en su etapa en solitario respectivamente.En este se centra en la segunda etapa de Bob Wills y Tommy Duncan juntos de nuevo por los 60's.Grandes temas,Trouble In Mind,New San Antonio Rose,Goodbye Liza Jane.... y asi hasta 16,Tambien destacar que tiene colaboradores de lujo en este trabajo, Red Steagall,Leon Rausch,Glynn Duncan,Jason Roberts,Cornell Hurd,Victor H. Mata.
Lo He podido escuchar y la verdad que merece la pena pagar los 35$ que cuesta.
Introduction
Ida Red
Image Of Me
Time Changes Everything
Convict And The Rose
Heart To Heart Talk
Testimony
You Dont Love Me (But Ill Always Care)
Trouble In Mind
Keeper Of My Heart
Introduction to Glynn Duncan
Right Or Wrong
A Maidens Prayer
Walking In The Shadow Of The Blues
The Kind Of Love I Can't Forget
Goodbye Liza Jane
Bubbles In My Beer
New San Antonio Rose
Goodnight Little Sweetheart
Epilogue
Trouble in mind Lyrics
Trouble in mind, trouble in mind
I'm feelin' lonesome and blue
Can't sleep at night for think'
Over things that I've gone through
I never had no trouble
'till that black cat crossed my path
Trouble, how long will it last?
[Chorus:]
Trouble in mind, I'm blue, but I won't be blue always
For the sun will shine in my back door some day
Trouble in min, that's true, I have almost lost my mind
Life ain't worth livin' feel like I could die.
I'm gonna lay my head on some lonesome railroad iron
Let the two nineteen train ease my troubled mind
Trouble in min, I'm blue, My poor heart is beating slow
Never had no trouble in my life before.