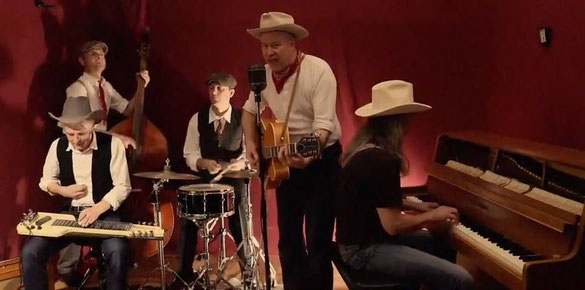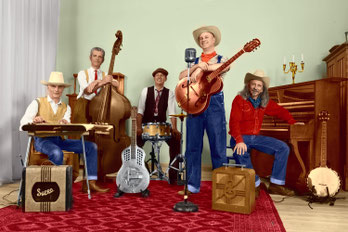 Mike Penny & his Moonshiners are back with their third album by Rhythm Bomb Records and reconnect with "Texas Boogie". Musically richer and more sophisticated, they continue to follow the path that their idols have established at the end of the forties up to the beginning of the 1950s: with "Rock Me Daddy-O", the Country & Western elements move in the background and are replaced by Jumping Jive, Boogie and Rhythm'n Blues (greetings from Bill Haley). This makes "Rock Me Daddy-O" the most danceable album from the five Hillbillies and should not be missing at any party.
Worth mentioning in addition to the danceable Jive numbers such as "Daddy-O-Rock", "Rompin 'Stompin'", "Diggin 'The Boogie", "Jump Jack Jump" or "How long must I wait", a cool stroll version of the Indie-Song "Creep" (by Radiohead) as well as a cover of "18 Miles to Memphis", which sounds almost as if it was the current original version of the Stray Cats title.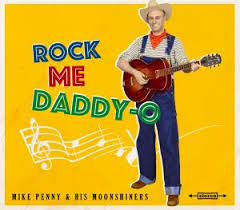 "Rock Me Daddy-O" sounds both vintage and modern at the same time. This is quite intended because with the recording of the new album, Mike has also fulfilled his youth dream and built up his own studio with a mix of old analog and new digital technology. That certainly explains the long production time of one year.
In the recordings, Dirk Hoeseler (drums), Albert Ricken (bass) and "Piano" Schulze (piano) put a driving, black beat among the otherwise rather white sound of the Moonshiners. Twinlines by Lap Steel (Rick Ramsey) and guitar (Mike Penny), together with Mike Penny's distinctive vocals, create the typical Moonshiners sound. Why the album bears the title "Rock Me Daddy-O" explains Mike charmingly: "Our average age is 52 years, and together we are counting 8 children (3 of them are in mine) ..." Questions?
01 Rompin 'And Stompin' (Curtis Gordon)
02 Fat Gal (Merle Travis)
03 Daddy O Rock (Luke McDaniel)
04 18 Miles To Memphis (Brian Setzer)
05 Diggin 'The Boogie (Roy Hall)
06 Do not Ever Take My Picture Down (Lou Wayne, Moon Mullican)
07 How Long Must I Wait For You? (Jeff Shelby)
08 Creep (Thom Yorke, Albert Hammond, Mike Hazlewood)
09 Four Five Times (Byron Gay / Marco H. Hellman)
10 Dust (Johnny Marvin)
11 Jump Jack Jump (Starnes, Neva, Gilbert, Rusty, Dennis, Jimmie, Crawford, Blackie)
12 Copper Head (unknown)