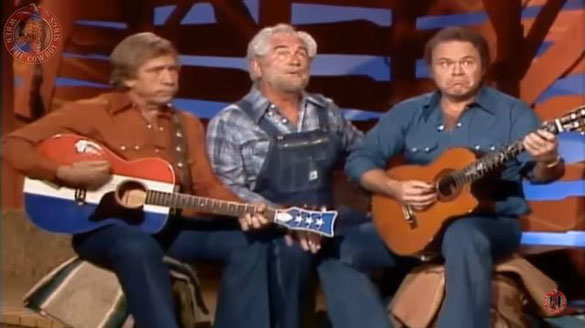 Roy Clark,Buck Owens And Foster Brooks  performs "Oh, Lonesome Me" on Hee Haw 1979.
 Foster Brooks was an American actor and comedian most famous for his portrayal of a lovable drunken man in nightclub performances and television programs.
"Oh Lonesome Me" is a popular song written and recorded in December 1957 by Don Gibson with Chet Atkins producing it for RCA Victor in Nashville. Released in 1958, the song topped the country chart for eight non-consecutive weeks in addition to reaching No. 7 on the Billboard Hot 100.
Don Gibson Oh Lonesome Me Lyrics
Everybody's going out and having fun
I'm just a fool for staying home and having none
I can't get over how she set set me free oh lonesome me
A bad mistake I'm making by just hanging round
I know that I should have some fun and paint the town
A lovesick fool is blind and just can't see oh lonesome me
I'll bet she's not like me she's out and fancy free
She's flirtin' with the boys with all her charms
But I still love her so and brother don't you know
I'd welcome her right back here in my arms
Well there must be some way I can lose these lonesome blues
Forget about the past and find somebody new
I've thought of everything from A to Z oh lonesome me
Well I'll bet she's not like me...
Oh lonesome me oh lonesome me