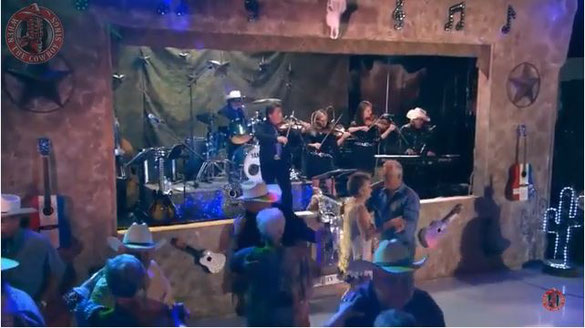 Bobby Flores performs "How Long Is Forever (This Time)"on TruCountry Show 2017.
Bobby Flores and the Yellow Rose Band is the premier classic country and western swing band in Texas! Featuring 3 fiddles, lots of steel guitar, and Grammy award winning Bobby Flores' smooth country vocals
"Roly Poly" is a humorous Western swing standard written by Fred Rose in 1946. In the song, Roly Poly is a very active boy who eats continuously to keep his strength up. 
"Roly Poly" was first recorded by Bob Wills and His Texas Playboys in 1946, staying on the charts for 18 weeks and reaching number three.It has been recorded by many Western swing bands since. Notable renditions have been recorded by fellow Texans, country crooners Jim Reeves and Ray Price. Asleep at the Wheel featuring the Dixie Chicks covered the song in 2000. 
Bob Wills Roly Poly Lyrics
Roly Poly, eatin' corn and taters
Hungry every minute of the day
Roly poly, gnawin' on a bisquit
Long as he can chew it it's ok
He can eat an aple pie
And never bat an eye
He likes everything from soup to hay
Roly Poly, daddy's little fatty
Bet he's gonna be a man someday
Roly Poly, scrambled eggs for breakfast
Bread and jelly 20 times a day
Roly Poly, eats a hearty dinner
It takes lots of strength to run and play
Pulls up weeds and does the chores
Runs both ways top all the stores
He works up an appitite that way
Roly Poly, daddy's little fatty
Bet he's gonna be a man someday