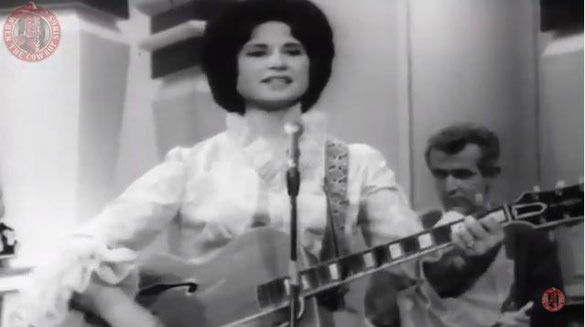 Kitty Wells performs "Making Believe"and"Searching (For Someone Like You)".
"Making Believe" is a country music song written by Jimmy Work. Kitty Wells recorded a chart-topping version in 1955. The song is on many lists of all-time greatest country music songs and has been covered by scores of artists over the past fifty years, including Thorleifs, Bob Dylan, Johnny Cash, Roy Acuff, Lefty Frizzell, Wanda Jackson, Connie Francis, Ray Charles, Anita Carter, Dolly Parton, Emmylou Harris, Merle Haggard, Ernest Tubb, Social Distortion, Skeeter Davis, The Haden Triplets and Volbeat. The song is occasionally called "Makin' Believe"
Making believe Lyrics
Making believe that you still love me
It's leaving me alone and so blue
But I'll always dream
Still, I'll never own you
Making believe
It's all I can do
Can't hold you close
When you're not with me
You're somebody's love
You'll never be mine
Making believe
I'll spend my lifetime
Loving you
Making believe
Making believe that I never lost you
But my happy hours I find are so few
My plans for the future will never come true
Making believe
What else can I do?
Can't hold you close
When you're not with me
You're somebody's love
You'll never be mine
Making believe
I'll spend my lifetime
Loving you
Making believe
Searching (For Someone Like You) Lyrics
Searching, I've spent a lifetime, darling
Searching, looking for someone like you
Dreaming, in all my dreams I dream
That someday I'd find someone like you
Other love have come my way but they were not for me
Tell me that you're here to stay, don't ever set me free
'Cause I've been searching, I've spent a lifetime, darling
Searching, looking for someone just like you
Other love have come my way but they were not for me
Tell me that you're here to stay, don't ever set me free
'Cause I've been searching, I've spent a lifetime, darling
Searching, looking for someone just like you