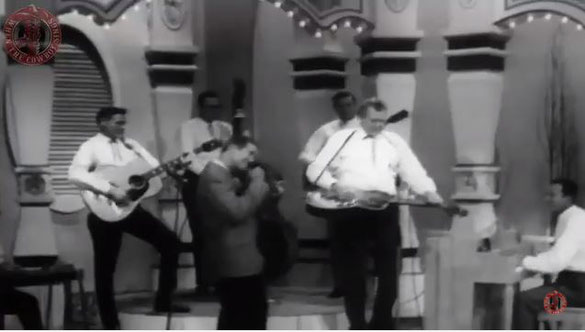 Bill Anderson on The Jimmy Dean Show.
"The Wabash Cannonball" is an American folk song about a fictional train, thought to have originated in the late 19th century. Its first documented appearance was on sheet music published in 1882, titled "The Great Rock Island Route" 
The Carter Family made one of the first recordings of the song in 1929, though it was not released until 1932. Another popular version was recorded by Roy Acuff in 1936.The Acuff version is one of the fewer than 40 all-time singles to have sold 10 million (or more) physical copies worldwide.
Wabash Cannonball Lyrics
From the great Atlantic ocean
To the wide Pacific shore
From the queen of flowing mountains
To the southbelt by the shore
She's mighty tall and handsome
And known quite well by all
She's the combination
Called the Wabash Cannonball
She came down from Birmingham
One cold December day
As she rolled into the station
You could hear all the people say
There's a girl from Tennessee
She's long and she's tall
She came down from Birmingham
On the Wabash Cannonball
Our eastern states are dandies
So the people always say
From New York to St. Louis
And Chicago by the way
From the hills of Minnesota
Where the rippling waters fall
No changes can be taken
On the Wabash Cannonball
Here's to Daddy Claxton
May his name forever stand
And always be remembered
'Round the courts of Alabam
His earthly race is over
And the curtains round him fall
We'll carry home to vic'try
On the Wabash Cannonball
Listen to the jingle
And the rumble and the roar
As she glides along the woodlands
Through the hills and by the shore
Hear the mighty rush of the engine
Hear that lonesome hobo squall
You're travlin' through the jungles
On the Wabash Cannonball
Freight Train Blues Lyrics
I was born in dixie in a boomer's shack
Just a little old shanty by a railroad track
The hummin' of the drivers was my lullaby
And a freight train whistle taught me how to cry
I've got the freight train blues, lordy, lordy, lordy
Got 'em in the bottom of my ramblin' shoes
And when that whistle blows, I've gotta go
Oh! lordy! guess I'm never gonna lose
The mean old freight train blues
Now my pappy was a fireman and my mammy dear
Was the only daughter of an engineer
My sister married a brakeman and it ain't no joke
Now it's a shame the way she keeps a good man broke
I've got the freight train blues, lordy, lordy, lordy
Got 'em in the bottom of my ramblin' shoes
And when the whistle blows, I've gotta go
Oh! lordy! guess I'm never gonna lose
The mean old freight train blues