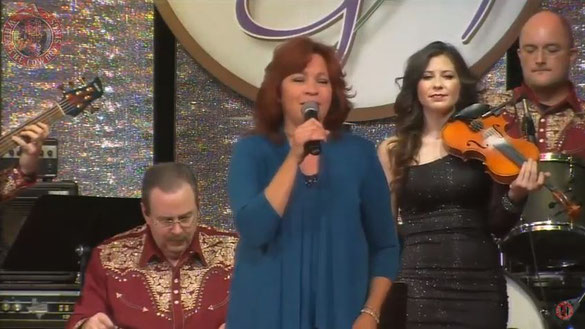 Lisa Layne performs "Don't You Believe Him"Live Video on The Penny Gilley Show.
In 2011 back in Texas she formed the band "Lisa Layne and One Layne Road",  focusing on recording and performing music at festivals, fairs, corporate events, casinos and good ole Texas dance halls.
In 2016-2017 Lisa was awarded the Will Rogers Pure Country Female Vocalist of the year by the Academy of Western Artists.
Most recently Lisa and the band have opened for Restless Heart, Bobby Flores as well as headlining at the Texas State Fair, National Corgi Dog Show and the Penny Gilley Show on RFD TV.   Lisa has also performed at the Lil Reds Longhorn Saloon in the Ft. Worth Stock Yards and the legendary Stagecoach Ballroom along with many more venues and events.
Don't You Believe Him lyrics 
He can give you a reason to live if he wants to
He can make you forget other loves that you had known
He has two lips and two arms that thrill you as very few do
And if you want him to give them to you just ask and he will
Don't you believe him
I did and soon he'll be leaving me
No don't believe him if you do
Then soon he'll be leaving you too
He can tell you a lie you believe if he has to
And you'll trust me till time and the tide both stand still
He can cry on your shoulder and swear to the things that he won't do
But be careful for when you're not looking he will
Don't you believe him
I did and soon he'll be leaving me
No don't believe him if you do
Then soon he'll be leaving you too