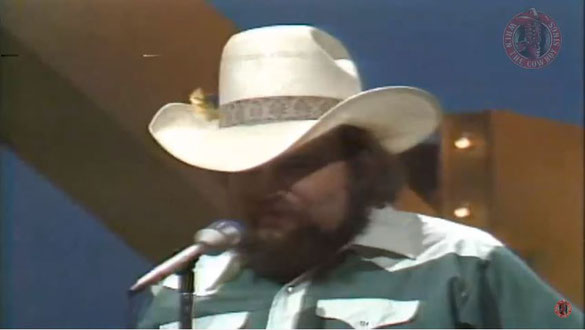 Charlie Daniels performs "The South's Gonna Do It Again"on Pop Goes The Country.
"The South's Gonna Do It", is a song written and performed by the Charlie Daniels Band and released on their 1974 album Fire on the Mountain.
The song uses a clever play on words to promote Southern rock music. The notion that "the South shall rise again" was a familiar sentiment and rallying cry for disaffected Southern whites after the American Civil War. The song co-opts that sentiment, but uses the statement to celebrate Southern rock acts contemporary to the song itself. The "it" that the South is going to do again, it is implied, is that the South would produce further popular Southern rock bands.
Daniels in fact bristled at more nefarious interpretations of what the "it" was. When the Ku Klux Klan used the song as background music for radio commercials for a 1975 rally in Louisiana, Daniels told Billboard magazine, "I'm damn proud of the South, but I sure as hell am not proud of the Ku Klux Klan. ... I wrote the song about the land I love and my brothers. It was not written to promote hate groups.
Charlie Daniels The South's Gonna Do It Again Lyrics
Well, the train to Grinder's Switch is runnin' right on time
And them Tucker Boys are cookin' down in Caroline
People down in Florida can't be still 
When ol' Lynyrd Skynyrd's pickin' down in Jacksonville
People down in Georgia come from near and far
To hear Richard Betts pickin' on that red guitar
So gather 'round, gather 'round chillun'
Get down, well just get down chillun'
Get loud, well you can be loud and be proud
Well you can be proud, hear now
Be proud you're a rebel
'Cause the South's gonna do it again and again
Elvin Bishop sittin' on a bale of hay
He ain't good lookin', but he sure can play
And there's ZZ Top and you can't forget
That old brother Willie's gettin' soakin' wet
And all the good people down in Tennessee
Are diggin' Barefoot Jerry and C.D.B
So gather 'round, gather 'round chillun'
Get down, well just get down chillun'
Get loud, well you can be loud and be proud
Well you can be proud, hear now
Be proud you're a rebel
'Cause the South's gonna do it again and again