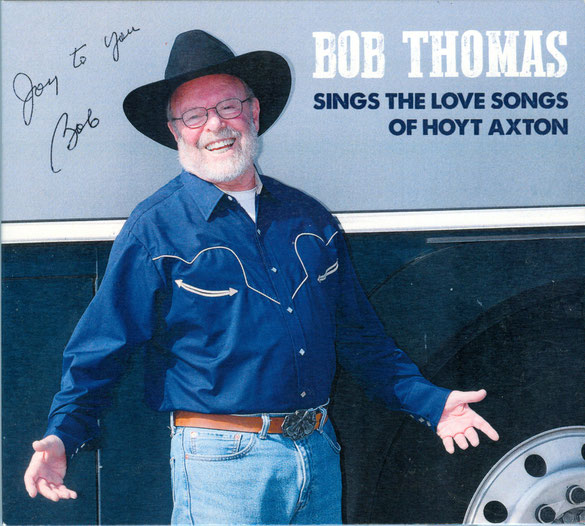 There are, in nature, voices that may not seem to have been intended to produce songs, but from which they pour forth unabated.  Norman Blake, Tom Waits, the late Townes van Zandt and others I would place in the category.  Bob Thomas, too.
In his lifetime Hoyt Axton created Western songs such as "Della & The Dealer" and "Wild Bull Rider."  For this release the WMA's Bob Thomas departs from Western, but undoubtedly some of these words could come from Cowboy mouths ("Lion In The Winter," "Gypsy Moth" and, in a stretch, "In A Young Girl's Mind").  Thomas is elevated by the production values, including his daughter Erinn Rachelle and others on harmony vocals and arrangements and performances by the CD's producer Chad Watson.  Many of Axton's allusions to escape, time passage and change are hooked to imagery of rivers and the sea...but we did have sailor-cowboys, didn't we?
Three Axton sidemen (Hank Barrio, Mark Dawson and Rhys Clark) appear on the best known of the songs "When The Morning Comes."  Ten tracks. 
In a Young Girl's Mind
Lion in the Winter
A Stone and a Feather
When the Morning Comes
Life Machine
Gypsy Moth
I Dream of Highways
Free Sailing
You Taught Me How to Cry
Jealous Man