Reached at number # 1 on the US Hot Country Songs charts, and remaining on the charts a total of 19 weeks, on the Canadian RPM Country Tracks charts, also peaked at # 1. The song was included on Alabma's ninth studio album, 40-Hour Week (RCA 1985)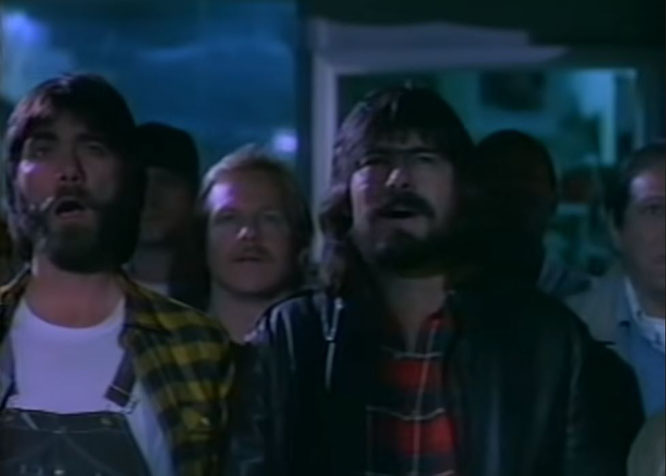 Forty Hour Week (For A Livin')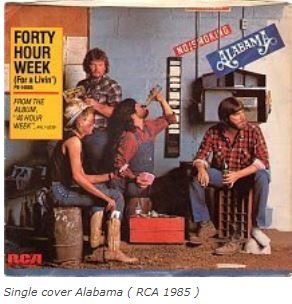 "40 Hour Week (For a Livin ')", song written by Dave Loggins, Don Schlitz and Lisa Silver, was recorded by the country rock band Albama for the RCA label, on September 6, 1984, on The Music Mill, 1710 Roy Acuff Place, Nashville, TN. Randy Owen (vocal and guitar), Fred Newell (vocal and guitar), Gregg Galbraith (vocal and guitar), Jeff Cook (vocal, guitar and organ), Brent Rowan (guitar), participated in the recording session of the song. Ronny Scaife (guitar), George Jackson (guitar), Jack Eubanks (guitar), Ken Bell (guitar), Teddy Gentry and Larry Paxton (bass), Eddie Bayers, Roger Hawkins and Mark Herndon (drums), David Briggs, Little Willie Rainsford (keyboards), Cost Davis (synthesizer), Farrell Morris (percussion) + strings. With the production of Harold Shedd and Alabama, the song was released on April 17, 1985, and on August 3, 1985, reached at number # 1 on the US Hot Country Songs charts, and remaining on the charts a total of 19 weeks, on the Canadian RPM Country Tracks charts, also peaked at # 1 on August 17, 1985. It was the seventeenth consecutive number one in the Alabama's career.
The song was included on Alabma's ninth studio album, 40-Hour Week (RCA 1985), the album was released in January 1985, on March 30, 1985, reaching # 1 on the US Top Country charts Albums, remaining a total of 104 weeks in the charts. On the Canadian RPM Top Albums charts, it peaked at # 69. The album was certified double platinum in the USA and platinum in Canada.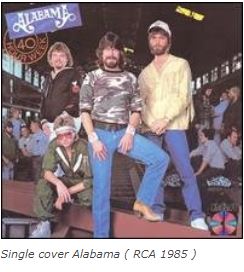 The song, a salute to the manual workers of the United States.
Country music historian Bill Malone, in his notes for Classic Country Music: A Smithsonian Collection, wrote that "40 Hour Week (For a Livin ')" "... is a rare tribute from country music to American workers He probably owes his popularity to both his patriotic feelings and his social concern. " Malone also noted that, with few exceptions, "almost no one in country music has spoken for the industrial worker," one of Alabama's leading groups of workers greets on this song. "This direct tribute gives the contemporary worker the respect that the Reagan years denied him," Malone concluded.
Miquel Batlle Garriga




mbatllegarriga@gmail.com
Alabama - Forty Hour Week (For A Livin')  Lyrics
[Verse 1]
There are people in this country
Who work hard every day
But mot for fame or fortune do they strive
But the fruits of their labor
Are worth more than their pay
And it's time a few of them were recognized
[Pre-Chorus]
Hello Detroit auto workers
Let me thank you for your time
You work a 40 hour week for a livin'
Just to send it on down the line
Hello Pittsburgh steel mill worker
Let me thank you for your time
You work a 40 hour week for a livin'
Just to send it on down the line
[Chorus]
This is for the one who swings the hammer
Driving home the nail
Or the one behind the counter
Ringing up the sale
Or the one who fights the fires
The one who brings the mail
For everyone who works behind the scenes
[Verse 2]
You can see them every morning
In the factories and the fields
In the city streets and the quiet country towns
Working together like spokes inside a wheel
They keep this country turning around
[Pre-Chorus]
Hello Kansas wheat field farmer
Let me thank you for your time
You work a 40 hour week for a livin'
Just to send it on down the line
Hello West Virginia coal miner
Let me thank you for your time
You work a 40 hour week for a livin'
Just to send it on down the line
[Chorus]
This is for the one who drives the big rig
Up and down the road
Or the one out in the warehouse
Bringing in the load
Or the waitress, the mechanic
The policeman on patrol
For everyone who works behind the scenes
With a spirit you can't replace with no machine
[Outro]
Hello America, let me thank you for your time