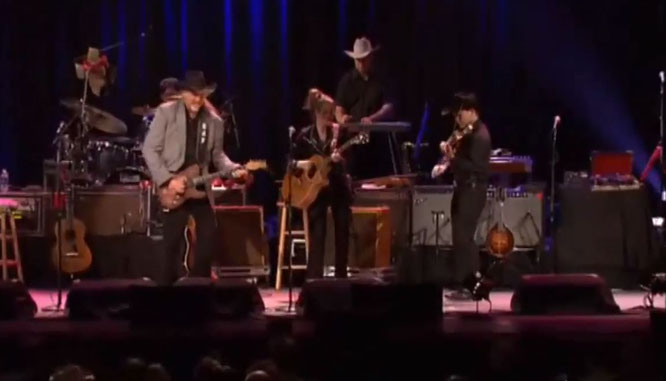 Asleep at The Wheel performs "Route 66"Live Video.
"(Get Your Kicks on) Route 66" is a popular rhythm and blues standard, composed in 1946 by American songwriter Bobby Troup. The song uses a twelve-bar blues arrangement and the lyrics follow the path of U.S. Route 66 (US 66), which traversed the western two-thirds of the U.S. from Chicago, Illinois, to Los Angeles, California.
Nat King Cole, as the King Cole Trio, first recorded the song the same year and it became a hit, appearing on Billboard magazine's R&B and pop charts.
Asleep at the Wheel Route 66 Lyrics
Well if you ever plan to motor west
Just take my way that's the highway that's the best
Get your kicks on Route 66
Well it winds from Chicago to L.A
More than two thousand miles all the way
Get your kicks on Route 66
Well goes from St. Louie down to Missouri
Oklahoma city looks oh so pretty
You'll see Amarillo and Gallup, New Mexico
Flagstaff, Arizona don't forget Winona
Kingman, Barstow, San Bernadino
Would you get hip to this kindly tip
And go take that California trip
Get your kicks on Route 66
Well goes from St. Louie down to Missouri
Oklahoma city looks oh so pretty
You'll see Amarillo and Gallup, New Mexico
Flagstaff, Arizona don't forget Winona
Kingman, Barstow, San Bernadino
Would you get hip to this kindly tip
And go take that California trip
Get your kicks on Route 66