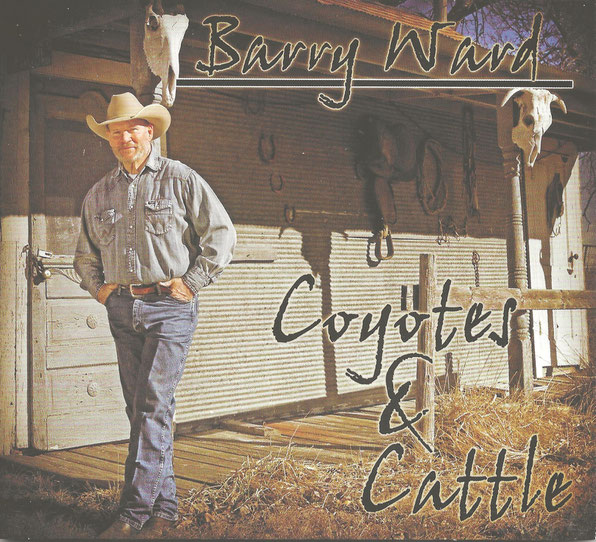 The newest from The Bear strikes me as containing more first person reflections and "End of Life's Trail" songs than usual.  Am I mistaken, or is he trying to tell us something?  What am I saying!  Barry Ward frequently tries to tell us something!!!
Seven of the tracks here are Ward originals.  Picks among them include "Ruts Of The Santa Fe Trail," the wistful title track "Coyotes & Cattle," "That Old Barn," "Saddle Up" and the rousing voice and guitar showpiece "Bandito," even though its religious U-turn ending might otherwise make me veer off.  Among the covers we'll name as picks are Marvin O'Dell's "Keep A Candle In The Window," the Indian-intoned "Wayfaring Stranger," fellow Kansan Larry Hannon's 1995 Will Rogers paean "The Man From Coo-Wees-Coo-Wee" and Gordon Mote's "Wake Up Dancin'."
Barry Ward is a former (then) WMA Male Performer of the Year and his CD "Coyotes & Cattle" will still give you a good indication why.  All-in-all it's another solid horse in his string!  Thirteen tracks.  Recommended. 
CD:  $15 + $3 s/h from Barry Ward, PO Box 185, Eureka, KS 67045 and through BarryWardMusic.com
by  Rick Huff
Ruts of the Santa Fe Trail
My Rifle, My Pony, And Me
Keep a Candle in the Window
Coyotes & Cattle
Wayfaring Stranger
Saddle Up
Bandito
That Old Barn
The Man from Coo-Wees-Coo-Wee
Sunshine of Your Eyes
Love Found Its Way Home
Wake Up Dancin'
Light at the End of the Trail