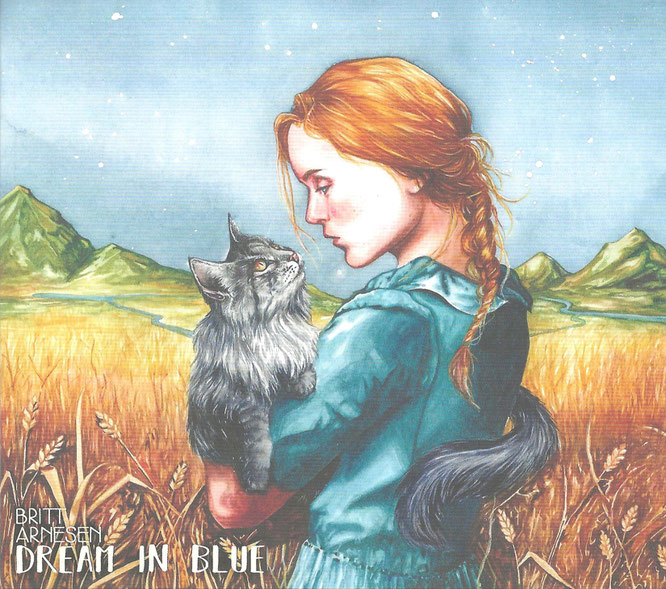 Here is one of those borderline cases.  Is it Western, Western-ish or none of the above?  It's a case of moods, people and images that could slip into a Western framework…or avoid it totally.  The tracks that do come closest are "Calamity Jane," "Wood River Moon" and "No Kind Of Angel."
In addition to a conundrum, what Alaska transplant to Montana Britt Arnesen has provided to us is a very original and poetic set of lyrics and melodic patterns set to the rich vintage slack key accompaniment of an 1891 Martin Parlor Guitar (tuned A=432hz for the technicians among you)!  Arnesen paints word pictures with impressionistic strokes and colors.  Vocally Arnesen can almost seem like a waif fighting tides of fate, sort of but not precisely from the Melanie Safka school.
Having travelled form the far north to Missoula, Montana specifically to study with the region's Bluegrass and Western performing artists, Britt Arnesen certainly has the potential to bring us new and exciting work that embodies Western occurrences and sense of Western place.  We eagerly await it, and in the meantime…you might want to check this out!  It's really well done.  Twelve tracks.
CD:  $10 + $5 s/h from Britt Arnesen, PO Box 8365, Missoula, MT 59807 or through www.907Britt.com
 - by Rick Huff
Britt Arensen - Dream In Blue lyrics
The other night, I had a dream in blue
Counting stars for every time I lose you
Calling out to the lonesome moon, and
Waitin' on a white flower to bloom
Float along the river's lazy bend
See the willows standin' hand in hand, they
Sing about my lovesick blues, and
Drown me in their mournful music
The other night, you had a dream in red
Lost your sleep to the noise of the unsaid
Strange sounds from the open window
Wander out to the ghost who knew you
Lay me down upon the stones I threw
Close my eyes so they can't accuse you
Make believe that you didn't do it
Innocent until they can prove it
Tell your alibi until it's true
Swallow all the pleasures of your choosin'
Hear the barn owl wondering "who"
He's there to watch your every move
The other night, I had a dream in blue
Countin' stars for every time I lose you
Callin' out to the lonesome moon, and
Drowning in my mournful music