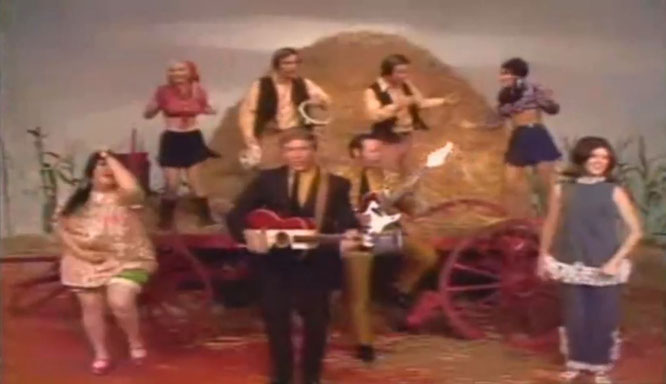 Buck Owens and The Buckaroos performs "Johnny B Goode" Live Video.
"Johnny B. Goode" is a 1958 rock-and-roll song written and first recorded by Chuck Berry. The song was a major hit among both black and white audiences, peaking at number two on Billboard magazine's Hot R&B Sides chart and number eight on its Hot 100 chart
Written by Berry in 1955, the song is about an illiterate "country boy" from the New Orleans area, who plays a guitar "just like ringing a bell", and who might one day have his "name in lights".Berry acknowledged that the song is partly autobiographical and that the original lyrics referred to Johnny as a "colored boy", but he changed it to "country boy" to ensure radio play.As well as suggesting that the guitar player is good, the title hints at autobiographic elements, because Berry was born at 2520 Goode Avenue, in St. Louis.The song was initially inspired by Johnnie Johnson, the regular piano player in Berry's band, but developed into a song mainly about Berry himself. Johnson played on many other recordings by Berry, but Lafayette Leake played the piano on this song.
Country musician Buck Owens's version of "Johnny B. Goode" topped Billboard magazine's Hot Country Sides chart in 1969.
Buck Owens Lyrics Johnny B. Goode Lyrics
Deep down in Louisiana, close to New Orleans
Back up in the woods among the evergreens
There stood an old cabin made of earth and wood
Where lived a country boy named Johnny B.Goode.
Who'd never, ever learned to read or write, so well
But he could play a guitar just like a ringin' a bell
Go, go, go, Johnny go, go,
Go Johnny go, go, go, Johnny go,
Go, go, go, go, Johnny go,
Go, go, Johnny B Goode.
He used to carry his guitar in a gunny sack
Sit beside the tree by the railroad track
The engineer would see him sittin' in the shade
Listen to the rhythm that the drivers made
The people comin' by they would stop and say
Oh, my but that little country boy could play
Go, go, go, Johnny go, go,
Go, Johnny go, go, go, Johnny go,
Go, go, Johnny B Goode.
[Instrumental]
His mama told him someday you will be a man
And you will be the leader of a big old band
Many people come from miles around
To hear you play your music till the sun goes down
Maybe someday your name will be in lights
A sayin' Johnny B Goode tonight
Go, go, go, Johnny go, go,
Go, Johnny go, go, go, Johnny go,
Go, go, Johnny B Goode...