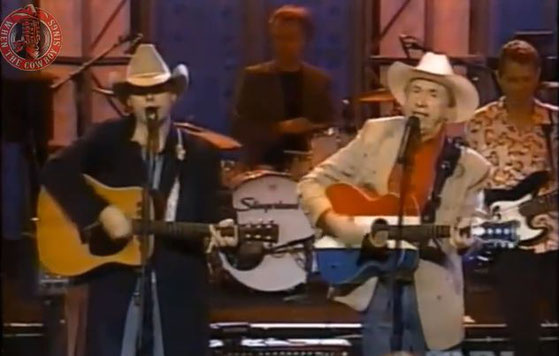 "Santa Looked a Lot Like Daddy" is a Christmas song co-written and recorded by Buck Owens. After its recording in 1965, the song has been covered by several country music artists, including Garth Brooks, Travis Tritt, and Brad Paisley.
The song was released on November 8, 1965, with "All I Want for Christmas, Dear, Is You" on the B-side.It placed at number 2 on the yearly Christmas singles chart issued by Billboard at the time.
The song is about a child who has sneaked downstairs to catch a glimpse of Santa where the child sees his father in a Santa costume.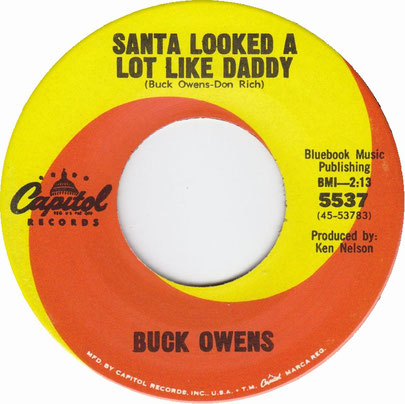 Buck Owens  Santa Looked A Lot Like Daddy lyrics
Santa looked like daddy
Or daddy looked like him
It's not the way I had him pictured
Santa was a much too thin
He didn't come down the chimney
So momma must have let him in
Santa looked a lot like daddy
Or daddy looked a lot like him
Well, they thought I was fast a sleepin'
They thought I was tucked in bed
They never thought I'd come a peepin'
Or that I'd hear what was said
Santa put his arm around mama
And mama put her arm around him
So if Santa Claus ain't daddy
Then I'm a gonna tell on them
Well, Santa looked like daddy
Or daddy looked like him
It's not the way I had him pictured
Santa was a much too thin
He didn't come down the chimney
So momma must have let him in
Santa looked a lot like daddy
Or daddy looked a lot like him
I never saw Dancer or Prancer
I never heard the sleigh bells ring
I never saw the Red Nosed reindeer
Like they show on the TV screen
But he sure brought a lot of presents
So Santa Claus he must have been
Well, he sure looked a lot like daddy
And daddy looked a lot like him
Well, Santa looked like daddy
Or daddy looked like him
It's not the way I had him pictured
Santa was a much too thin
He didn't come down the chimney
So momma must have let him in
Santa looked a lot like daddy
Or daddy looked a lot like him