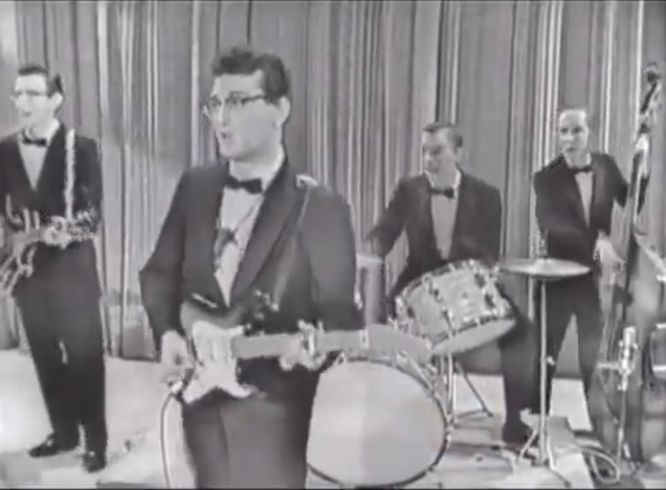 "That'll Be the Day" is a song written by Buddy Holly and Jerry Allison. It was first recorded by Buddy Holly and the Three Tunes in 1956 and was re-recorded in 1957 by Holly and his new band, the Crickets. The 1957 recording achieved widespread success. Holly's producer, Norman Petty, was credited as a co-writer, although he did not contribute to the composition.
Many other versions have been recorded. It was the first song recorded (as a demonstration disc) by the Quarrymen, the skiffle group that evolved into the Beatles.
The 1957 recording was certified gold (for over a million US sales) by the Recording Industry Association of America (RIAA) in 1969. It was inducted into the Grammy Hall of Fame in 1998. It was placed in the National Recording Registry, a list of sound recordings that "are culturally, historically, or aesthetically important, and/or inform or reflect life in the United States", in 2005.
Buddy Holly - That'll Be The Day Lirics
Well, that'll be the day, when you say goodbye
Yes, that'll be the day, when you make me cry
You say you're gonna leave, you know it's a lie
'Cause that'll be the day when I die
Well, you give me all your loving and your turtle doving
All your hugs and kisses and your money too
Well, you know you love me baby, until you tell me, maybe
That some day, well I'll be through
Well, that'll be the day, when you say goodbye
Yes, that'll be the day, when you make me cry
You say you're gonna leave, you know it's a lie
'Cause that'll be the day when I die
Well, that'll be the day, when you say goodbye
Yes, that'll be the day, when you make me cry
You say you're gonna leave, you know it's a lie
'Cause that'll be the day when I die
Well, when Cupid shot his dart he shot it at your heart
So if we ever part and I leave you
You sit and hold me and you tell me boldly
That some day, well I'll be blue
Well, that'll be the day, when you say goodbye
Yes, that'll be the day, when you make me cry
You say you're gonna leave, you know it's a lie
'Cause that'll be the day when I die
Well, that'll be the day, woo ho
That'll be the day, woo ho
That'll be the day, woo ho
That'll be the day