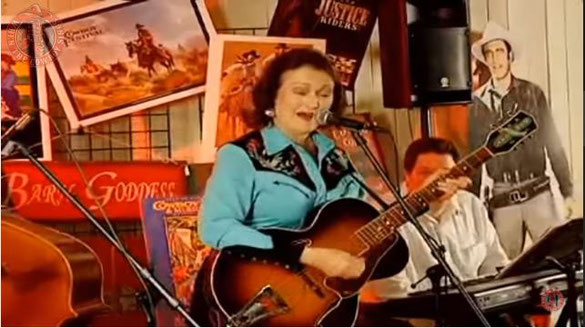 Carolyn Martin
Carolyn is a Texas born, Nashville based swing singer and member of the Texas Western Swing Hall Of Fame. She was inducted into the Northwest Western Swing Music Society's Hall of Fame in 2014 and will join the Western Swing Society of the Southwest's Hall of Fame in 2015. In 2014, the  Cowtown Society of Western Music named Carolyn a "Hero of Western Swing", and Carolyn was the recipient of the Academy of Western Artists' Will Rogers award as the Western Swing Female Vocalist of the Year in 2008, 2010, and 2014.
Carolyn Martin has been described as "an astonishing singer", "a remarkable voice", a "singing sensation" and as "one of the finest western swing singers in the business, the dreamy-voiced Carolyn Martin." The Riders In The Sky's Ranger Doug says,  "I have grown increasingly in awe of Carolyn's talent: her taste, her musical sensibility, the thoughtfulness and care she brings to every line of every song she sings," and Vince Gill says simply, "Carolyn Martin is a great swing singer." From her early days playing Texas dance halls and honky-tonks through 11 years she spent as a member of the Grammy nominated Time Jumpers to her current tours with Carolyn Martin's Swing Band, Carolyn's live shows have always aimed to deliver what Ft. Worth Magazine called "a jaw dropping performance." 
Carolyn's recordings have won accolades – among them, Western Swing Album of the Year and Western Swing Song of the Year. Each of Carolyn's last four CD's spent months at the top of Western Way Magazine's Western Swing Chart.
Carolyn's latest CD, "A Platter Of Brownies: The Music of Milton Brown" pays homage to the Father of Western Swing, Milton Brown. Brown, along with his band the Musical Brownies, was a seminal figure in the development of what we now know as western swing. "A Platter of Brownies" was recently named the Western Swing Song of the Year by the Academy of Western Artists.
Carolyn began playing guitar and singing in her teens, and before too long, started playing in public. "My very first job was when my friend Laurie and I started working at a place called "Old Abilene Town", a tourist attraction out by the interstate. They showed silent movies in the restaurant, and Laurie and I would play in the intermission between the movies."
Carolyn soon began working with area bands, and a few years later took her own band on the road, playing in nightclubs, dance halls and hotel lounges. "It seemed like every hotel in the country had a band in their lounge; we would play each place for two or three weeks, getting to know the town and the people, then move on to the next town for a two or three weeks. It was a nice way to live for a few years, sightseeing during day and playing every night".
After relocating to Nashville, Carolyn worked as a freelance singer and guitarist, gradually transitioning from playing in bars to performing at private parties and corporate events – a move that had both advantages and a few downsides. The move allowed Carolyn to sing regularly – and sing a wide variety of music, from traditional country to R&B, but it also meant that there was a certain loss of visibility; 'out of sight, out of mind' is certainly true in the music business.
Then, one Monday night in 1999, Carolyn went to hear some friends who were playing with a group called the Time Jumpers. They asked Carolyn to sit in with the band and sing a couple of songs. Within a couple of months, she was invited to become a member of the group. 11 years later, after having been a part of three CD's, a DVD that has aired on hundreds of Public Television Stations and sharing two Grammy nominations with the other members of the band, Carolyn left the Time Jumpers to perform full time with her own group, Carolyn Martin's Swing Band.
Carolyn's performances are not limited to western swing; for the last few years, she's been singing in a show called "Country Royalty", a tribute to the music of Hank Williams and Patsy Cline. She also has gained a reputation as an interpreter of pop/jazz standards of the 1930s and 40s, singing with her jazz quartet.
SCVTV Presents The OutWest Concert Series
OutWest Concert Series is a live western music program hosted by OutWest Boutique and Cultural Center owners Jim and Bobbi Jean Bell at the Repertory East Playhouse in Newhall, Calif.