Charlie Rich performs "I Take It On Home"
This new "countrypolitan" Rich sound paid off in the summer of 1972, when "I Take It on Home" went to number six on the country charts.
Charles Allan Rich (December 14, 1932 – July 25, 1995) was an American country music singer, songwriter, and musician. His eclectic style of music was often difficult to classify, encompassing the rockabilly, jazz, blues, country, soul, and gospel genres.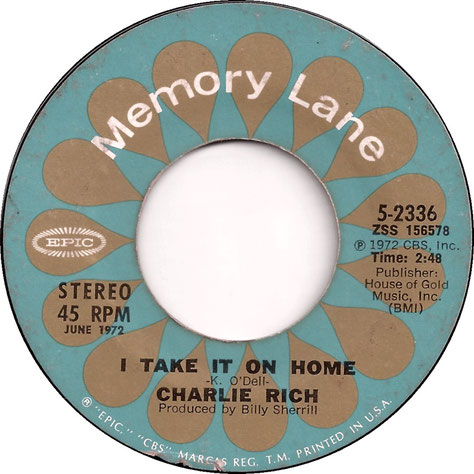 Charlie Rich - I Take It On Home Lyrics
Sometimes at the end of the day
Before I head home, I make a stop along the way
A couple of drinks, wait for the 5 o'clock rush to go by
And almost always there's a lady
Oh, and it's so hard, she starts coming on
I back it on up, turn it around and take it on home
Sometimes I've gotta go out of town
I'll be gone for a couple of days
And this buddy of mine he's a hound in the first degree
And almost always there's the ladies
And it ain't easy there out and alone
But I back it on up, turn it around, take it on home
I take it on home to a woman who sticks by me
'Cause I believe she'd do the same if she was me
And I wouldn't know where to turn to if she was gone
So when I ain't working, I don't hang out I take it on home
I back it on up, turn it around and take it on home