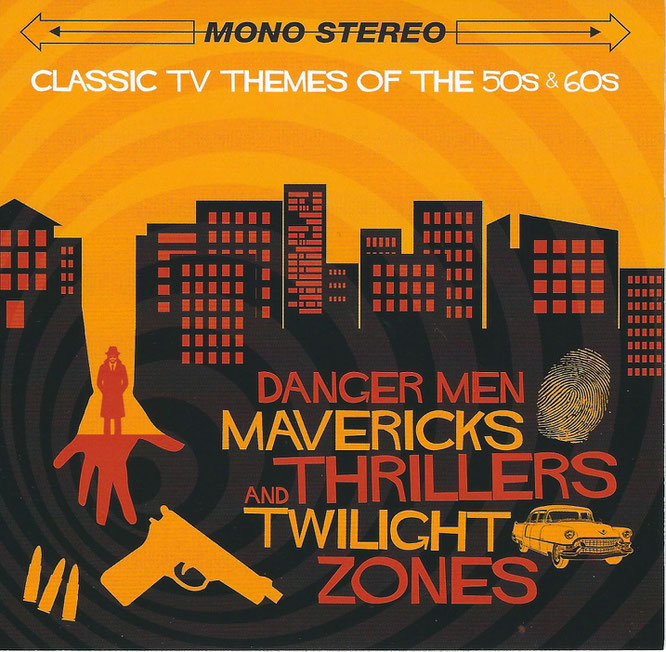 Danger Men, Mavericks, Thrillers and Twilight Zones
Classic TV Themes of the 50s & 60s
Jasmine                                                                                                                   JASMCD- 2621
I'm noticing what appears to be a shift in my radio listening audience away from folks who enjoyed Saturday matinees as children, to those who came along a little later and only watched tv Westerns at home. At least, audience response has been hinting at that shift, and, given our changing demographics, specifically the natural aging process, the perception stands a good chance of being accurate. If that's the case, Jasmine made a wise decision in releasing this new CD of 40 tv themes. 
         While the themes cover a range of shows, from "I Love Lucy" and "Alfred Hitchcock Presents" to "Dinah Shore" and "The Untouchables," nearly a third (13) of the themes here are from Western shows. They include some that are very familiar and still played frequently on the air, e.g. "Bonanza" and  "Gunsmoke," but there are plenty of favorites that have been "lost" for some time, like the original TV theme music from "Bronco," "The Rifleman," "Maverick," "Cheyenne" and "Laramie."  In fact, quite a few are from the original versions rather than studio re-recordings or recordings made by others.
        This one's sure to bring back many pleasant memories and will also be a keepsake for the younger folks in the audience who are just now learning about some of these shows through re-runs. Widely available online and through your favorite dealer.