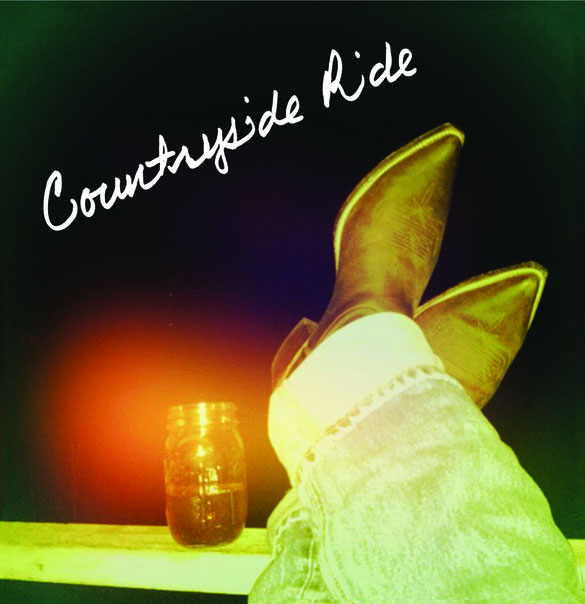 Portland, Oregon-based country quintet Countryside Ride have put their hearts and honky-tonk sound into their sophomore album, I Hope He Breaks Your Heart (Deer Lodge Records), a fourteen track collection of tunes - originals and covers - that find the band doing what they do best: playing good, ole' fashioned country, honky-tonk, hillbilly, and western swing. 
"We're all the rage in Amboy, Washington," jokes Countryside Ride's Bret Ervin Lien, discussing the band's popularity in the Northwest honky-tonk scene.  Playing rhythm guitar and handling lead vocals, Lien fronts the band that is rounded out by Josh Kunze (lead Telecaster guitar, vocals), Jessica Kunze (stand-up bass, vocals), Johnny Payola (drums, vocals), and Ian Miller (pedal-steel). 
With their new album, I Hope He Breaks Your Heart, Countryside Ride mix seven classic country songs (by the likes of Johnny Horton, Willie Nelson, Hank Cochran, and Billie Shaver) with seven originals (five written by Lien, one by Jessica, and one by Payola), to create a record that sounds straight out of the classic era of honky-tonk and western swing. 
Named after a Lien original on the album, Lien says they liked the phrase so much, they wanted to use it for the album title. 
"I wrote a song called 'I Hope He Breaks Your Heart,' and I thought the phrase, being something that a person might think, as opposed to actually say, was interesting," he says of the choice.  "'I Hope He Breaks Your Heart' is a simple, straight-forward country song, but it's a song that conveys an emotion or feeling that I believe anyone who has had their heart broken can relate to." 
That sentiment of lost love, loneliness, and regret permeates the album, especially on the Jessica-penned "Breakfast Blues," of which she sings lead, proclaiming, "Black coffee, Bloody Mary, cigarette.  A lonelier person, I haven't found one yet." 
Recorded at Portland, Oregon's The Deer Lodge Studio with engineer/producer, and country music aficionado, Ezra Meredith, Meredith helped hone the band's live sound, and build upon their 2011 self-titled release, keeping their live sound intact, while further allowing the songs to live and breath the golden era of classic country. 
"For our previous record, we rented out a theater, took two afternoons, set up our gear and just played through some songs basically trying to get a really good recording of what we sounded like live.  We were also trying, maybe naively, to recreate that 'live energy' for the record," recalls Lien.  "On this record, we took a more traditional approach: while we recorded the rhythm tracks live to try and keep the energy as organic as possible, we split things up so that we could spend more time crafting each recording.  Not having a set schedule or any concrete deadlines really gave us time to think about what we were doing and I think the end result is record we're tremendously happy with.  Having Ezra involved made a world of difference and I think the end result is a polished, wonderful record as opposed to just a recording." 
Having played out for over twelve years now, and having been friends before they ever played music together, Lien, Jessica, and Josh had great chemistry on the self-titled album, but with I Hope He Breaks Your Heart the band added drummer Johnny Payola and pedal-steel player Ian Miller (who guested on the debut), and in doing so didn't miss a beat, keeping the flawless chemistry and explosiveness of the live band fully intact, if not even more so. 
"The original band (Josh, Jessica, and myself) are still here, Ian Miller is back on steel guitar, and again we have tried to cover a wide variety of styles that all fall under the umbrella of traditional country or honky-tonk music," Lien says, comparing I Hope He Breaks Your Heart to the debut.  "Since we recorded the last record we have added Johnny Payola on drums, allowing us to add a whole other layer to our sound.  Having had six years between the two recordings, we have had a lot of growth as a band: personally and musically.  I think that our original songs have quite a bit more depth than some of our earlier tunes did, and we put a lot more time, energy, and preparation into the process this time around as opposed to just setting up some microphones and pressing the record button.  On this new record we have Jessica and Johnny singing as well, where on the last record I was the only vocalist.  The contributions made by Ezra Meredith cannot be understated either: he produced and engineered the record and did some playing on it as well.  It wouldn't be what it is without his involvement." 
While Lien is quick to point out there is no concept or overarching theme to this record, the band's covers and originals both play well into the country-themed topics of lost love, loneliness, drinking, isolation, and hanging at your local honky-tonk, even paying homage to their favorite club in Amboy, Washington, "Nick's Bar & Grill," where they got their start.  Singing, "We call it Nick's Tavern, but it's Nick's Bar & Grill," the band's love for the venue - which they still play to this day - is bigger than ever. 
"The one thing that we have tried to do is be true to the genre to some extent, while also choosing material that does the same," he says.  "The themes and stories in country music have, for the most part, examined the ins and outs of everyday life: the trials and tribulations of normal, everyday people, and that was our goal." 
The songs also feature a call and response, whereas a lyric is immediately followed by a response from either the lead guitar or the pedal steel, and when a certain emotion is being conveyed by the lyrics and vocal delivery, that same emotion is echoed, enhanced, and reinforced by the instrumental response immediately following it, adding another layer to the track. 
The band realizes that their style of old school country, while loved by a small underground faction, doesn't adhere to current industry trends or fit in with popular music, though that's not necessarily something they're concerned with.  They don't care about fitting into any kind of category, but keep their focus on trying to do the best that they can do. 
"We're huge fans of traditional country and all American roots music really, and we are trying to play within those genres as best as we can," furthers Lien.  "When other people enjoy what we do, it makes things all that much better for us, as we plan to keep playing and recording music for as long as possible.  There is so much to the type of music we play, and we just want to have fun and do our part to keep it alive." 
Being huge fans of country music and classic country records, most of which feature a wide array of covers in addition to originals, Countryside Ride not only stay true to their sound, but true to form as well, which is why they included half covers and half originals on the album. 
"We are huge fans of country music and there are more great country songs than we will ever have the opportunity to play.  But, adding covers, or standards, to our record seemed like a given as historically that is the general format of the other records within the genre: about half the songs being original, and half not," states Lien.  "We have a huge list of other people's songs that we can play, but the songs we chose for this record were chosen not only because they were songs that we considered great, but also because they were songs we thought would round out the sound of the record overall.   We like to cover a wide range of styles and feels and wanted this record to do the same." 
But, when asked how he feels the originals work with the covers, Lien is hesitant to answer, but reluctantly does. 
"As someone who aspires to write more songs, comparing something I have wrote to a famous song is one of the most daunting aspects of songwriting.  That being said, I think when put together in this collection they hold up pretty well.  I was afraid that our originals would not stand up and be eclipsed by the other compositions, but that isn't the case and we're happy about that." 
With a record they are very proud of, and a band ready to go play live, Countryside Ride are keeping their goals modest and obtainable, but still want the sky to be the limit. 
"I'm not sure that we have any specific 'goals,' but overall we would like to keep moving upward and onward," Lien proudly states.  "We love playing music and we hope that we can continue to do that.  With that in mind, we would like to play more, keep expanding the places we play as well as the audiences that we play for, and keep moving forward and improving.  I try to be realistic when contemplating the limits of what we can accomplish as a band, but that being said, I would like to take this as far as I can.  We plan on seeing how far we can go, and we are already thinking about our next record." 
When Lien sings, "When I say I hope you're happy, I hope he breaks your heart," he sings for us all.  But, what he really means to sing is, "I hope this record makes you happy," as it made the band tremendously happy to make, and they hope it connects with their old fans and new fans alike.