I've Cried (The Blues Right Out Of My Eyes)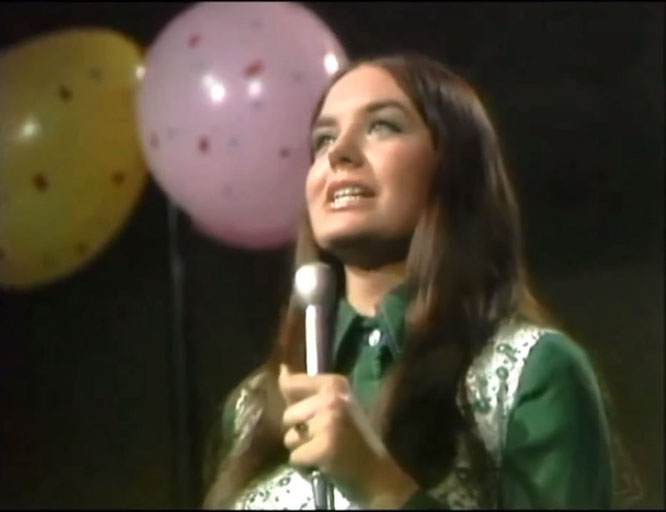 Crystal Gayle performs "I've Cried (The Blues Right Out Of My Eyes)"Live Video.
I've Cried the Blue Right Out of My Eyes is a compilation album by the American country music singer Crystal Gayle. Released in February 1978, the album consists of her earliest recordings from Gayle's tenure on the Decca Records label from the early 1970s (Decca was assimilated into MCA Records during Gayle's contract). The album was produced by Owen Bradley, who had previously produced such country stars as Patsy Cline and Gayle's elder sister, Loretta Lynn (who wrote three of the songs featured on this compilation).
Four of the album's ten tracks were originally released as singles between 1970 and 1973, including Gayle's earliest hit, "I've Cried (The Blue Right Out of My Eyes)", which reached #23 on the Billboard Country Singles chart in August 1970 (the song was re-released in early 1978 to promote this album, this time reaching #40 on the Country Singles chart). "Everybody Oughta Cry" reached #70 in January 1972, and "I Hope You're Havin' Better Luck Than Me" peaked at #49 in May 1972. "Show Me How" was released as a single in 1973, but failed to chart.
Crystal Gayle - I've Cried (The Blue Right Out Of My Eyes) Lyrics 
Oh i've hurt enough
for the both of us
since we said our
goodbyes
and i've cried
and cried
until i've cried
the blue right
out of my eyes
if you hear a beat
look down at
your feet
for that's where
my heart lies
i should run and hide
because i've cried
the blue right
out of my eyes
now my eyes are gray
the blues are
washed away
from tears i've cried
for you
i need you close to me
baby honestly
i love you
you know that i do
come on back again
don't say it's the end
or don't you realize
since you've
left my side
darlin' i've cried
the blue right
out of my eyes
now my eyes are gray
the blues are
washed away
from tears i've cried
for you
i need you close to me
baby honestly
i love you
you know that i do
come on back again
don't say it's the end
or don't you realize
since you've
left my side
darlin' i've cried
the blue right
out of my eyes