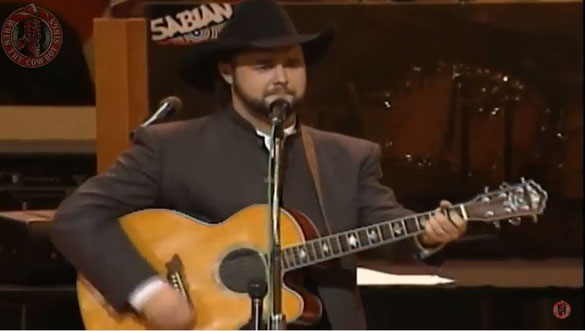 Daryle Singletary performs "Amen Kind of Love" on Grand Ole Opry.
"Amen Kind of Love" is a song written by Trey Bruce and Wayne Tester, and recorded by American country music artist Daryle Singletary. It was released in October 1996 as the first single from the album All Because of You. The song reached number 2 on the Billboard Hot Country Singles & Tracks chart.
 Daryle Singletary Amen Kind of Love lyrics
Don't guess i've ever loved another
Never once before did i really see the light
For they were barely friends and merely lovers
And it's taken what you've given me to feel like i do tonight
Chorus:
I (we) am moved by the spirit
I'm (we're) here to tensify
I (we) found an a-men kind of love
The kind that makes you fall down on your knees
And reach for the sky above
The kind that your soul can never get enough
I (we've) found an a-men, a-a-amen, a-men kind of love
You've given love a brand new meaning
Bound by a higher power then i've ever known before
Safe in your faithful arms i am leaning
Once i was lost but i am found for ever more and
Go to chorus, lead, chorus, instrumental to end.